Say Yes to the Dress Season 5 Premiere
My Guilty Pleasure: Say Yes to the Dress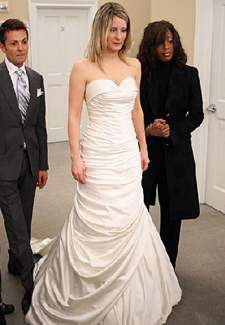 I'm no Monica Geller type, secretly planning out my future wedding with tear sheets, but even I got giddy when I heard that TLC's Say Yes to the Dress is returning tonight for its fifth season.
I first started watching the show for the sole reason that it was new on a Friday night filled with repeats — and, OK, because I was staying at home instead of going out (don't judge). Now, those Kleinfeld consultants (Keasha and Randy are my faves) have sunk their little claws in and wooed me as they help demanding brides find their dream gown. I love the customers with terrible taste and their family members with brash opinions, but a very girly part of me also feels all warm and fuzzy over the personal stories and when the bride-to-be tries on "the one" and gets all teary.
Tonight's premiere features a proposal along with back-to-back episodes, so you can bet I'll be tuning in. If you do have wedding fever, be sure to check out our coverage across the network. But first, take a peek at this promo — and share your Say Yes to the Dress love in the comments — when you read more.