Scandal Kerry Washington TV Show Shonda Rhimes Interview at TCA
Shonda Rhimes Talks About Bringing Scandal to TV With Kerry Washington
If you're a fan of Grey's Anatomy, you might be interested in creator Shonda Rhimes's new midseason show Scandal. Though there are no medical mysteries to be solved on the show, there are plenty of juicy PR nightmares. The drama follows the work of a political "fixer" played by Kerry Washington, who leads a team that includes Lost alum Henry Ian Cusick. The stars of the show and Rhimes visited the Winter TCA to talk about the inspiration for the series and whether it bears any similarities to Rhimes's other shows.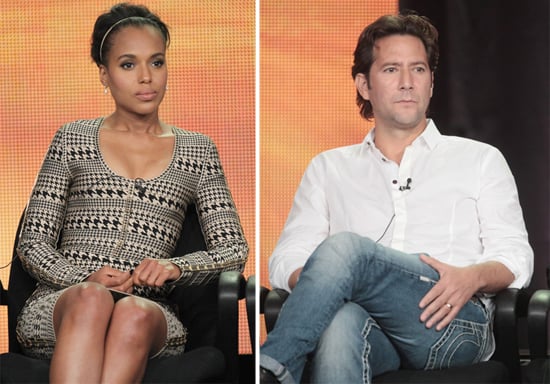 Shonda Rhimes talked about the show's inception, which involved executive producer Betsy Beers telling her to meet Judy Smith, a real-life fixer (she represented Monica Lewinsky during the Clinton scandal). Rhimes said she could envision a show around a character like her, and Scandal was born. Smith is now also an executive producer on the show.
Washington addressed the fact that Olivia is a character you both love and hate, saying, "I really love playing a complicated woman," but she says that she's "always looking for the good in the character." Washington defended Olivia's imperfections by saying that "the reality is that we are all flawed. There's not a single perfect human being alive."
Rhimes, who created Grey's Anatomy and Private Practice, addressed the fact that this show is not medical-themed, but added, "I love my shows that have stethoscopes in them. This is just a different story." But unlike those shows, Rhimes clarified that this is not a show about relationships. "It's not romance-y . . . there's no Mer-Der."