Scott Caan and Alex O'Loughlin Talk Hawaii 5-0 at the TCA
Hawaii Five-0 Brings Lots of Theme Song Talk, Leis to the TCA
The TCA is underway with today's CBS panels, and there's no question that the network's new heavy hitter is Hawaii Five-0. Alex O'Loughlin and Scott Caan (aka the new McGarrett and Danno) took the stage, though the critics were a lot more curious about staying true to the original signature theme song.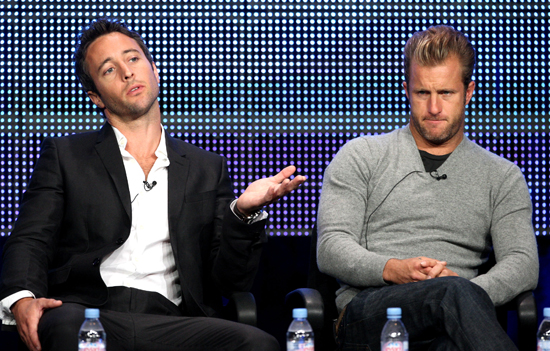 First things first: the showrunners and cast want to make it abundantly clear that this is a reboot. Not a remake, not a sequel, but a reboot, meaning that they aren't picking up where the original left off, and they are taking some creative liberties and putting a fresh spin on the old favorite (which apparently means it's not a remake).
As for researching for their roles, Scott Caan said he wanted to start fresh with the new script but Alex O'Loughlin did a little digging, and remembers the show from his youth.
Speaking of O'Loughlin, he's really hoping that his latest venture will be a hit after a string of failed TV shows. He said, "There's a reason things work or don't work on television, and I don't know what the answer is, I just keep wandering on and hoping..." However, it does sound like he's got confidence in the new series: "If this one doesn't go, I'm completely bewildered. I have no idea how television works at all."
Caan, on the other hand, spent some time contemplating whether he was ready to make the switch to TV after mostly doing movies. He quipped: "I think I do better work on this than what I'd done in the last 10 years in movies."
To find out how the guys will measure up against the originals and why costar Daniel Dae Kim is the unofficial "mayor" of Waikiki, just keep reading.
The showrunners' biggest point is that they want to keep realism alive and well in the new Hawaii Five-0. That means lots of scenic shots of Hawaii (which was referred to as the fifth character on the show) and using locals as extras and for bit parts.
As for differences between the original and the new show, we can expect to see more banter between McGarett and Danno. O'Loughlin also said that while he has fun adding new layers to the original, stoic Steve McGarett, he has nothing but respect for Jack Lord, the actor who played him. O'Loughlin said, "I love Jack Lord's McGarett. I love Jack Lord's hair. I love Jack Lord's facial expressions. He started Blue Steel, the look that he does. Our Steve McGarett is a little different. He's stoic in a lot of ways. He's a military guy. The differences between Danny and Steve are so apparent in every episode. Steve goes in one direction and Danny freaks out. Steve is constantly bemused by Danny's reaction. My job is character, it's the only thing I have any control over."
Unfortunately Daniel Dae Kim and Grace Park weren't on hand since they were too busy shooting, but the guys assured the audience that Dae Kim has been showing them the ropes after spending so much time in Hawaii for Lost. O'Loughlin even mentioned that Dae Kim pointed out all the best sushi spots. Aw, Jin!
And if you're still wondering about the theme, rest assured: the souped-up version will play for 30 seconds to one minute before every episode to pay proper homage to the original. (Also because the showrunners believe TV theme songs to be a "lost art.")