Scott Wolf Interview For ABC's V, Season 2
Scott Wolf Talks V, True Blood, and His Peeps on Jersey Shore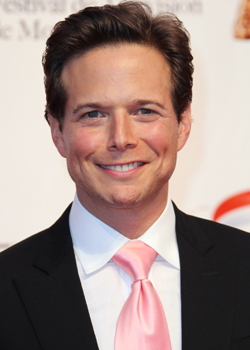 The wait is over! ABC's V returns tonight, picking up where it left off last May. To recap: the sky is red, Anna's angry, and Erica has destroyed the alien eggs. And then there's Chad Decker (AKA former Party of Five heartthrob Scott Wolf), the smarmy newsman who is Anna's henchman — until he realizes the horrific things she's done. Now that he's realized Anna's evil nature, will he switch sides?
A few months ago, I went on location to the Vancouver set of V, as the stars filmed the season two premiere, "Red Rain." Between takes, Scott Wolf sat down to chat about what's to come for Chad and the show. He admits that the series got off to a rocky start last year, but assures us that it's picking up steam. Read on, as he teases the new season, gabs about his new TV obsession, and shares his dream TV dad.
How's the second season so far?
Scott Wolf: It's so good to be back — so much better than the alternative! I don't think it's any secret that we had our bumps in the road last year, and I think any first year series probably experiences some of that. It's a huge show with a giant cast, an epic story, and a big mythology, so I think having everyone on the same page was difficult last year. This year, it's completely different. It just feels like they've used the time to figure out all the things that they may not have figured out before.
What can we expect to happen to Chad in the coming episodes?
SW: In the very first episode, in the season premiere, we see Chad for the first time truly declare his allegiance to one side.
Were you expecting for him to choose the way he did?
SW: No, it doesn't come as a huge surprise. But what is the most fun about the position he's in, is he's in the middle and has access to both . . . what I can say is, it takes a minute before we see Chad and Anna in the same room again, and a lot changes between the last time they saw each other and this time, so I'm interested to see what their dynamic is, moving forward.
Read more from Scott Wolf, including his thoughts on True Blood, after the jump.
Your father shows up this season. What can you tell us about that?
SW: All I know is a little more than what I can tell you! What I do know is, meeting him explains a lot about why Chad is the person he is in the world, and why he makes some of the decisions he's made. His dad is sort of in a position of power, so it won't be just a private, Chad and his father sort of side story, but it will be part of the big fabric of the Visitors and who the government is interacting with them.
If you could cast any actor as Chad's father, who would be your dream dad?
SW: I had a thing years ago, through a friend. I wound up meeting Burt Reynolds, and he was really great to me. I met with him, and he was a really incredibly generous guy, and he wound up putting me on Evening Shade (the show he did). So I know someone who's worked with him recently, and his name came up at Comic-Con, and I was like, ah, the father. He could do it. He's brilliant.
Other than V, what do you like to watch at home?
SW: The one show we started watching — my wife started watching, and I started watching it with her — is True Blood. We started watching and got pretty hooked. We rented the first season DVDs, and we're making our way through those. It's really good…and I blame my wife, but there's probably more reality television on than should be.
Like Jersey Shore? What are we talking about?
SW: Well, it's funny, because I grew up in Jersey shore. We watched that show one time. [My wife] actually was like, "Come here, are these the people you grew up with?!" But I grew up going to Seaside Heights. I mean, those weren't really my peeps, so to speak, but I did see them. God bless them, man.