Screen Actors Guild Awards Winners Full List 2011-01-30 19:43:51
Announcing the Winners: The 2011 Screen Actors Guild Awards
It may not have been the most exciting award show, but this year's Screen Actors Guild Awards did drop one big surprise: The King's Speech beat out The Social Network for outstanding performance by a cast in a motion picture! Even though The Social Network has been running away with this award season, this time it was completely shut out.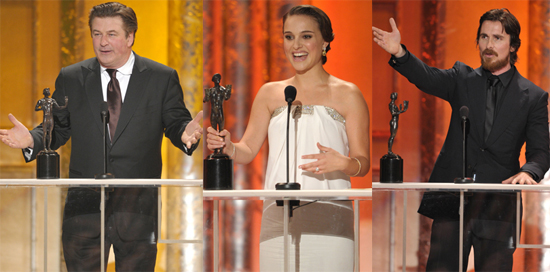 The rest of the evening's presentations pretty much played out as expected: Natalie Portman won for Black Swan, Christian Bale and Melissa Leo once again took the stage for The Fighter, and Boardwalk Empire continued to rack up statues for both the cast and Steve Buscemi. But in one small surprise twist, Betty White won for her role in Hot in Cleveland over fellow nominees like Jane Lynch and Tina Fey. She approached the mic with heartfelt gratitude (and some dirty humor), but overall, most of the night's speeches were kind of a snooze — especially when you compare them to some of the great quotes from the Golden Globes.
Don't forget to vote in our winners' polls and check out our press room highlights as we reveal what the stars had to say. But first, take a look at the list of winners when you read more.
MOVIES
OUTSTANDING PERFORMANCE BY A MALE ACTOR IN A LEADING ROLE
Colin Firth, The King's Speech
OUTSTANDING PERFORMANCE BY A FEMALE ACTOR IN A LEADING ROLE
Natalie Portman, Black Swan
OUTSTANDING PERFORMANCE BY A MALE ACTOR IN A SUPPORTING ROLE
Christian Bale, The Fighter
OUTSTANDING PERFORMANCE BY A FEMALE ACTOR IN A SUPPORTING ROLE
Melissa Leo, The Fighter
OUTSTANDING PERFORMANCE BY A CAST IN A MOTION PICTURE
The King's Speech
TELEVISION
OUTSTANDING PERFORMANCE BY A MALE ACTOR IN A DRAMA SERIES
Steve Buscemi, Boardwalk Empire
OUTSTANDING PERFORMANCE BY A FEMALE ACTOR IN A DRAMA SERIES
Julianna Margulies, The Good Wife
OUTSTANDING PERFORMANCE BY A MALE ACTOR IN A COMEDY SERIES
Alec Baldwin, 30 Rock
OUTSTANDING PERFORMANCE BY A FEMALE ACTOR IN A COMEDY SERIES
Betty White, Hot in Cleveland
OUTSTANDING PERFORMANCE BY AN ENSEMBLE IN A DRAMA SERIES
Boardwalk Empire
OUTSTANDING PERFORMANCE BY AN ENSEMBLE IN A COMEDY SERIES
Modern Family
OUTSTANDING PERFORMANCE BY A MALE ACTOR IN A TELEVISION MOVIE OR MINISERIES
Al Pacino, You Don't Know Jack
OUTSTANDING PERFORMANCE BY A FEMALE ACTOR IN A TELEVISION MOVIE OR MINISERIES
Claire Danes, Temple Grandin