Season Three of Shear Genius Premieres on Bravo at 10/9c With Host Camila Alves
TV Tonight: Shear Genius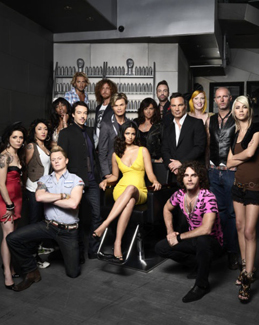 Bravo has been running the reality competition show Shear Genius for two seasons now, and I've tuned in from time to time. You have stylists battling against each other — and the clock — to churn out the most inventive, best-looking hair for their clients. But this time around, the show is getting much-needed fresh blood for the judges' panel with the addition of Jonathan Antin (from Blow Out!) and Matthew McConaughey's lady love, model Camila Alves.
Antin never shies from doling out harsh criticism, so I'm sure we'll see even more breakdowns this season than usual. But I'm mainly curious to see how Alves delivers on her hosting duties. She's obviously gorgeous, but will she have the discerning eye needed as a judge? If nothing else, I can at least picture her serving as the contestants' counselor of sorts, a good cop to Antin's bad cop.
I plan on catching the show tonight (10/9c) to see how she fares, but how about you? Will you tune in? To check out a preview of the new season, just
.
Photo courtesy of Bravo