The Secret Circle "Bound" Recap
The Secret Circle: "Bound" Recap
The second episode of The Secret Circle has Cassie — and us — getting better acquainted with her powers as a witch. While she has no idea what she's doing, the coven is still aggressively courting her. Nevertheless, she resists them as best she can and even tries to make a go at a normal friendship with the class president.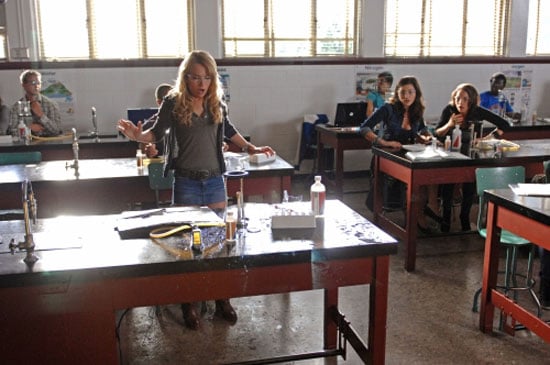 Diana and Adam try to convince her that she can harness her powers by joining them while the mysterious older generation of witches try to gain their lost powers by any means necessary. To find out what evil deeds they are up to this week, and if Cassie gives in to her fellow teenage witches, just keep reading.
The coven pressures Cassie to commit: Bulbs, beakers, and windows break as Cassie struggles to control her supernatural powers. Whenever the newbie witch is frustrated, something explodes as a result. Adam and Diana try to convince her that binding the circle will help her reign in her powers, but Faye argues against it, playing up the undesirability of being bound to one another for eternity as well as the fact that coming together will diminish everyone's individual strengths.
The secret circle has secret hook-ups: Nick and Melissa get it on behind the other coven members' backs. While Melissa warns him to keep their tryst a secret, he assures her he would never brag about it. Ouch. To make matters worse, he visibly upsets Melissa when he blatantly hits on Faye in front of her. Not so secret is the chemistry between Cassie and Adam, who continue to have so many sparks between one another that they literally cause light bulbs and street lamps to explode whenever they're together. Adam's girlfriend Diana has picked up on their chemistry and asks Adam if she should be worried. He reassures her that he loves her, but it's doubtful their relationship stands a chance— especially since according to Adam's dad, his son and Cassie are on an unavoidable "collision course of destiny." Good luck competing with that, Diana.
Dawn loses it on her father-in-law: Faye's grandfather, Henry, comes into town and starts investigating rumors that her mother's coven is practicing magic again. Henry stripped Dawn's coven of their powers years earlier, when the mysterious accident everyone keeps referring to left most of its members dead. When he discovers that Dawn and her cohort, Ethan, have a crystal that allows them to use their magic, he demands she hand it over, but she uses it to give him a heart attack instead. I'd say that's a pretty clear indication of how badly she and Ethan want to regain their powers, but how exactly does the teenage coven fit into their plans?
The coven becomes one: When Faye almost kills the class president by shoving her off a deck, the shaken witch decides that binding the group and controlling their powers isn't such a bad idea. Cassie, having witnessed the incident, agrees and the group arranges to meet at midnight to perform the binding ceremony. Diana, who has been pushing for the binding all along admits to Adam that she's not actually sure the ceremony will have the desired effect, which leads me to believe the clueless coven is in for some unwanted surprises.
What did you think of the second episode of The Secret Circle? Are you feeling the chemistry between Cassie and Adam? Are you dying to find out what went down with the older coven? How do you think the tension between Melissa and Nick will play out? Tell us in the comments!
Photo courtesy of The CW