The Secret Circle TV Show Details
The Secret Circle's Mythology Isn't the Same as The Vampire Diaries
If you look forward to The Vampire Diaries every week, we may have found your second favorite show. The Secret Circle is debuting on the CW this Fall after Diaries, and not only is the witchcraft series also based on books written by the same author (L.J. Smith), it has the same creator in Kevin Williamson. He stopped by TCA today, along with the show's producers and stars Britt Robertson, Thomas Dekker, Gale Harold, and Natasha Henstridge. The cast and showrunners talked about its parallels (and big differences) to The Vampire Diaries and why there probably won't be a crossover episode.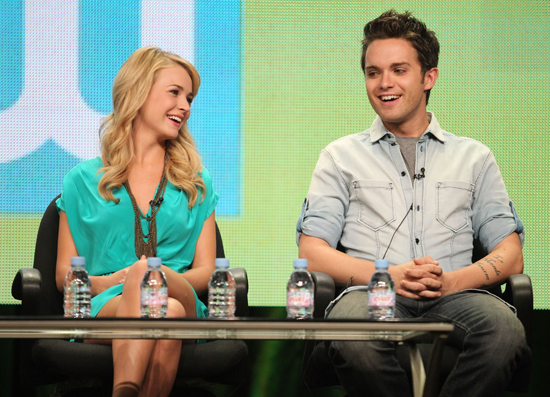 Williamson talked about adapting L.J. Smith's novels, and said that he likes her as a writer because she "taps into the stuff that I love, the coming of age and teen angst and then mixes it with genre." He gleefully listed off the elements Smith uses, like betrayal, deceit, friendship, loyalty, mayhem, and said, "All that is my happy place." When asked whether there would be an inevitable crossover episode, Williamson said he didn't know if we'll ever see one for a couple of reasons. First, he was insistent that The Secret Circle look like its own show and "be in its own world," and perhaps more importantly, he said that the witchcraft mythology in The Secret Circle doesn't connect to the mythology in The Vampire Diaries.
Robertson plays Cassie, a girl who discovers she's a witch and gets recruited by other teen witches to join the titular secret circle. Cassie, like Robertson's previous character Lux on Life Unexpected, struggles to adjust to living in a new town, and Robertson said she can relate to that feeling because she's also had to move around a lot as an actress. Cassie's character finds a place, though; Robertson says that "the circle ends up being her pseudo-family . . . for a while."
Read more about The Secret Circle's TCA panel and about their "very bad guy" when you
.
There's a budding love triangle on the show among Cassie, Dekker's character Adam, and his girlfriend Diana. Dekker says "there's a destiny for" Adam and Cassie, "but a massive amount of loyalty between Adam and Diana." Trouble will keep a-brewin' because Dekker says Adam is "probably the most informed about how their powers work," and he becomes Cassie's instructor of sorts, which will bring them even closer.
Gale Harold is the show's villain, Charles Meade, but he was cagey about what the character's motivations are, saying that there was no clear answer and that Charles "is not even sure what he's up to." He was pretty clear, however, about the fact that Charles is a big bad man, because he's "not just the bad guy, but a very bad guy who's supposed to be a good person."