Sequel Details Revealed in Interview With Kick-Ass Stars Aaron Johnson, Chloe Moretz, Clark Duke and Christopher Mintz-Plasse
The Top 5 Juiciest Things I Learned From the Kick-Ass Cast
Now that the world has seen controversial comic-based movie Kick-Ass, I thought I'd revisit some of the more interesting things that the cast told me when we chatted at Wondercon. Here are the five best tidbits from my interviews with Chloe Moretz, Aaron Johnson, Christopher Mintz-Plasse, and Clark Duke!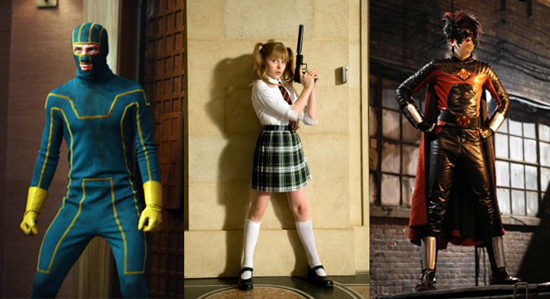 5) Chloe Moretz got into the action: "I did all my own stunts, except for running up the wall and crazy stuff like that."
4) If he were offered another action film, Christopher Mintz-Plasse would like to portray a girls' toy: "Is Bratz considered an action movie? I'd want to be one of the Bratz girls."
To hear what Aaron Johnson and Clark Duke spilled, including a sequel secret, just
.
3) Aaron Johnson learned to love comics for Kick-Ass: "It was kind of an introduction to comic books, through this movie."
2) Clark Duke wasn't jealous that he didn't get to wear a costume: "No, not once I saw how uncomfortable the costumes were for like, 18 hours a day."
1) Duke also has a tidbit of sequel news: "I've been told by Matthew Vaughn, the director, and Mark Millar, if there's a sequel, I could get a costume."