Seth MacFarlane to Host the Oscars
Seth MacFarlane Is Hosting the Oscars — Will He Make a Good Host?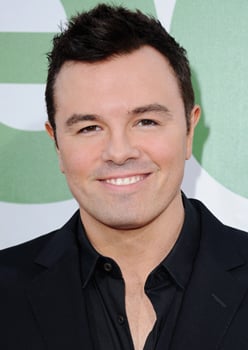 Next year's Oscars night will be full of celebration, teary speeches, and . . . Stewie impressions? Comedian Seth MacFarlane has been officially chosen to host the Oscars — a move that's somewhat surprising, since MacFarlane is best known for being the voice and creator of animated series like Family Guy and not necessarily for his hosting skills. He did, however, make for an impressive Saturday Night Live emcee on the show's season premiere, and MacFarlane does seem to be popping up in more places since his Summer comedy Ted was such a hit. MacFarlane seems excited about the gig, saying, "It's truly an overwhelming privilege to be asked to host the Oscars. My thoughts upon hearing the news were, one, I will do my utmost to live up to the high standards set forth by my predecessors, and, two, I hope they don't find out I hosted the Charlie Sheen Roast."
While MacFarlane isn't as seasoned as someone like last year's host, Billy Crystal, he has proven that he can sing and dance — and his wicked sense of humor should up the entertainment. But what do you think of Seth MacFarlane as the Oscar host choice? Do you think he'll make a good host, or would you have picked someone else for the job?