Will Seth MacFarlane Make a Good Oscars Host?
4 Reasons Seth MacFarlane Is the Perfect Choice to Host the Oscars
Family Guy creator Seth MacFarlane is on a roll this year. He's got several TV series on the air, his first live-action feature film was a hit this Summer, and now it has been announced that MacFarlane will host the 2013 Oscars. Not half bad, if you ask me. His Academy Awards hosting gig may seem out of the blue, but MacFarlane is ideal for a job like this.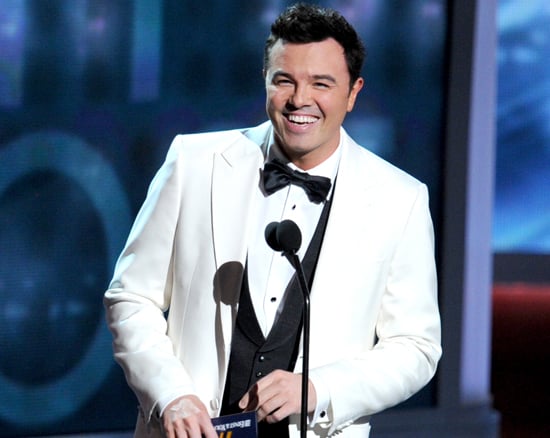 To hear why I think he'll make a great host, just read more.
He's a pop-culture know-it-all. He may be best known for creating an animated television empire, but his shows, like Family Guy, are spotted with little nods to TV and movies from low to high brow. Similarly, Ted was chock-full of pop-culture references. That undying love for Hollywood should come in handy for bits, movie spoofs, and beyond come Oscar night.
He put out a Grammy-nominated album last year. If you didn't have any knowledge of MacFarlane's musical leanings, you might assume I'm referring to a spoof album, but the animator put on his serious voice for a collection of original songs. It garnered two Grammy nominations, including best traditional pop vocal album. His classical vocals, and secret love of musicals, will likely come in handy in the all-important opening number.
He has grace under fire. As evidenced by his casual ability to handle mic malfunctions at the Emmys, we know MacFarlane is capable of playing off little incidents like they're no big deal. He didn't even look fazed at the Emmys when his sound cut out. An Oscar host needs to be ready for anything, so this is a great asset.
His brand of humor is controversial enough to keep the show interesting. Fans of Family Guy know there are very few topics off the table when it comes to making jabs for a laugh. With his huge success, MacFarlane fits in with the Hollywood elite, but he's not above spooning out jokes that'll keep them on their toes all night, which should also keep audiences tuned in.