Shameless 2011 Winter TCA Panel Quotes and Pics of William H. Macy, Emmy Rossum, and Justin Chatwin
William H. Macy Talks About Being "Toasted All the Time" For Shameless
Shameless, Showtime's new comedy about a family that's just barely getting by in the Chicago projects, hit up the Winter TCA today. Star William H. Macy, who plays alcoholic patriarch Frank, chatted with costars Emmy Rossum and Justin Chatwin and the series' producers about their characters and the tone of the midseason TV offering.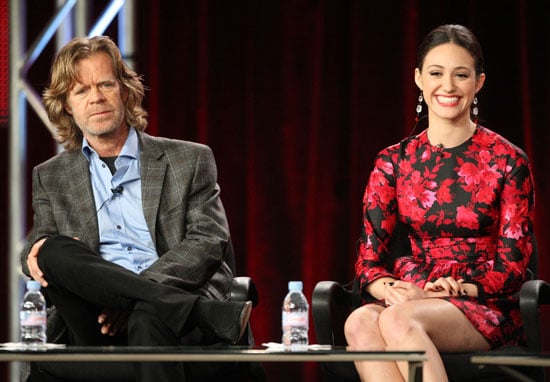 As downtrodden as Shameless can seem in its portrayal of a low-income family with an often-absent father, executive producer John Wells says that it's "really about a loving family." It shows how "people find ways to survive," and the sympathy and empathy they have for each other. Rossum ascertains that "these aren't people who feel sorry for themselves," and that they're "can-do people with a positive attitude." On that note, the producers said that there's an upcoming episode where we'll find out how the Gallaghers are able to live in their house.
Macy was extremely enthusiastic about his character Frank, calling it the "role of the century," and playfully adding that "it sure is fun to play someone who's toasted all the time." Besides the character, Macy said he was attracted to the show for its great writing, adding that the cast is sometimes surprised by how outrageous the scripts are: "It stops us on the set every once in a while," adding "we just think 'that's shameless.'"
Rossum also credited her character, Fiona, as the element that made her want to participate. She said she loves the character and had tons of praise for Fiona, citing her "fierce loyalty to her family" and the fact that she has a duality that makes her so strong, yet vulnerable. She's "very much a modern woman," Rossum said.
To learn more about Shameless, like the steamy sex scenes and Chatwin's role, just
.
Chatwin described his character Steve as "a rogue that's madly in love with Fiona." The actor sounded like as much of a hopeless romantic as his onscreen alter ego, saying that "it's like he's seen the future and he knows he's going to be with her." Of course, this show is far from a romantic comedy, and Chatwin conceded that "it gets really really complicated" for the couple.
On the show's pretty graphic sex scenes, Wells said they are "genuinely trying to show healthy sexuality," and was very frank about it, calling it the kind of "energetic sexuality in homes in which there's not a whole lot of money to do other things." Macy added that he thinks the depiction is "honestly and realistically done, and I find that so much more sexy."
Miss any of my Winter TCA coverage? It's right here!