Shameless Preview Clip and Pics Starring William H. Macy and Emmy Rossum
Pilot Scoop: Shameless
Are you ready for all the midseason TV shows? I recently gave you a brief look at the new shows, but I'll also be focusing on some of the new series with my pilot scoops. Today I'm checking out Showtime's dark comedy Shameless.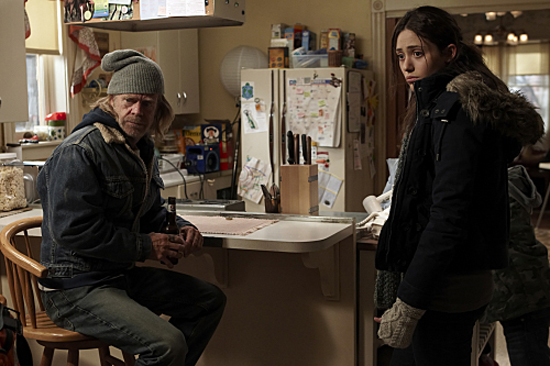 What it's about: William H. Macy stars as Frank Gallagher, a deadbeat alcoholic who heads up a household in the Chicago projects. His brood, which consists of oldest daughter/mother hen Fiona (Emmy Rossum), plus five other children of varying ages, is just trying to get by — whether it's through welfare, charity, or sometimes illegal means.
Where it works: The pilot is smart to focus squarely on Rossum as the hardworking daughter who has no choice but to keep the home running. She gets to show off multiple dimensions in the first episode alone: as someone who loves her family while simultaneously resenting them, but also just a girl in her 20s who yearns to be free and have fun. Her burgeoning romance with Steve (Justin Chatwin) is one of the few moments of levity in the pilot.
Where it doesn't: I predict that many people will find Shameless too dark, and even a little bit depressing, given its down-on-their-luck antihero ensemble.
Am I hooked? I was on the fence for the first half of the pilot, but by the second half, I was dying to watch the next episode. So, yes, I'm hooked for now.
When is it on? Sunday, Jan. 9 at 10 p.m. on Showtime.
To see some photos and a preview clip of Shameless, just
.
Photo courtesy of Showtime