Sherlock Holmes: A Game of Shadows DVD
What to Rent: New DVDs This Week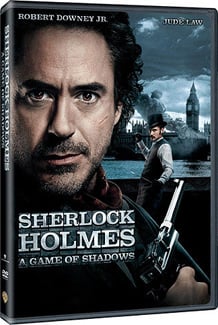 Sherlock Holmes: A Game of Shadows
Robert Downey Jr. reprises his role as the snarky British detective in the sequel to 2009's Sherlock Holmes. This time, Holmes leaves London when his quest to solve the murder of a royal and capture evil villain Dr. Moriarty (Jared Harris) takes him and trusty Watson (Jude Law) on a European tour of France, Switzerland, and Germany. DVD extras include featurettes "Sherlock Holmes and Dr. Watson: A Perfect Chemistry," "Holmesavision on Steroids," and "Moriarty's Master Plan Unleashed."

61%
Ghost Rider: Spirit of Vengeance
Nicolas Cage is back as the motorcycle-driving Johnny Blaze in the supernatural action flick Ghost Rider: Spirit of Vengeance. Unhappy that he is strapped with the curse of being the Ghost Rider, Blaze is hiding out in Eastern Europe until he is called on by a French monk (Idris Elba) to save an innocent boy from the devil. A battle (and over-the-top action sequences) ensues when the devil attempts to reclaim the boy, who is actually his son. Extras include the featurette "The Path to Vengeance," commentary from the filmmakers, and deleted scenes.
18%