Shirtless Ryan Gosling on the Poster For All Good Things
Which Morning-After Movie Poster Do You Prefer?
If you're in need of afternoon pick-me-up, I've got just the thing for you. This morning we got a peek at the new movie poster for All Good Things, (the Ryan Gosling/Kirsten Dunst indie flick that finally got a release date), and I immediately thought of the recent one-sheet for Love and Other Drugs. Sure, these movies look totally different — All Good Things is a dark murder mystery while Love and Other Drugs is a soapy-looking dramedy — but the similarities in these posters can't be ignored. Shirtlessness? Check. Hot leading man? Check. Entranced leading lady who seems to be unaware of a secret her lover is keeping? Check and check.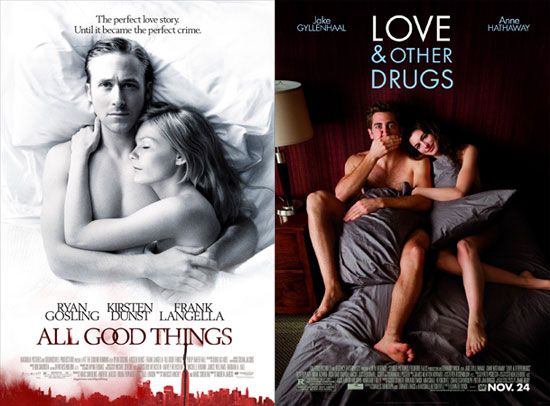 In a few months I'll be able to shed some more light on the actual films, but just for fun, let's judge these books by their covers: which morning-after movie poster do you prefer?