Silver Linings Playbook Review
Silver Linings Playbook: Sweet Insanity
It's nearly impossible to pigeonhole a movie like Silver Linings Playbook. Is it a drama? A comedy? A sports film? A romance? The truth is, David O. Russell's latest movie is all of those things — and more. The film, about a bipolar man named Pat (Bradley Cooper) looking to get his life back on track after a stint in a mental institution, examines Pat's illness as Russell takes us through the sometimes hilarious, sometimes horrifying process of healing. Russell and his impressive cast strike such a perfect balance between drama and comedy that it doesn't matter how the movie's categorized; the easiest way to label Silver Linings Playbook is as a great movie.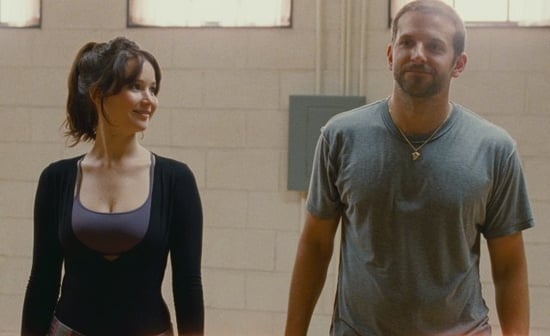 After eight months in the hospital, Pat moves back in with his parents, ready to start fresh. He's determined to embrace a more positive attitude in the hopes of winning back his wife, but he's continually haunted by the memory of beating her lover to pulp — not to mention the fact that the filter between his brain and mouth appears to be completely broken. His belligerent (and often insensitive) comments provide easy chuckles from the audience, but it's not until Tiffany (Jennifer Lawrence) enters the picture that the film really becomes a joy to watch — in all its idiosyncratic glory.
To see the other reasons I loved Silver Linings Playbook, just read more.
Cooper and Lawrence may seem like an unlikely pairing due to their 15-year age difference, but there's nothing at all unnatural about their onscreen chemistry. Tiffany has had her own share of problems since the death of her husband, and the two instantly connect over their mutual experience with medication and their glaringly obvious lack of social skills. From there, they strike up a deal that has Pat training alongside her for an upcoming dance competition. Watching Cooper and Lawrence practice their routines is endlessly entertaining, but their arguments are equally endearing. Both actors deliver spot-on performances, and their characters would be annoying if Cooper and Lawrence didn't make them so likable.
Pat is at the center of the film, but he's hardly the only character with a little bit of crazy in him; he's quick to explain that despite the rage episode that landed him in the hospital, he's "not the explosion guy." That's a title he attributes to his father (Robert De Niro), who, despite his mild-mannered demeanor, earned himself a life ban from watching his beloved Philadelphia Eagles play after one too many fights at the games. Then there's Pat's mother (Jacki Weaver), whose need to make the exact same game-day snacks every Sunday borders on obsessive-compulsive, and his best friend Ronnie, whose marriage is about to give him a nervous breakdown. Though Pat is the only one who's earned himself a reputation as the resident psychopath, there's no denying that there's a little bit of insanity in everyone.
As Pat begins to evolve into the man he wants to be, Silver Linings Playbook morphs too, from a character study into a quirky romantic comedy — without losing its edge. Russell makes sure to straddle the line between heartwarming moments and harsh realism, keeping the audience rooting for the characters while bracing themselves for everything to go downhill. But as Pat and his family learn, sometimes a bigger investment means a bigger payoff, and the audience is rewarded when Silver Linings Playbook leaves it all on the field.