Silver Linings Playbook Theme Party Instructions
How to Throw a Silver Linings Playbook-Themed Oscar Party
Football season may be over, but there's another big competition to focus on — the Oscar race. The ceremony is on Feb. 24, and if you're having a viewing party, you can incorporate a bit of the game into it — if you theme it after one of this year's biggest nominees: Silver Linings Playbook. Here's how to use Bradley Cooper and Jennifer Lawrence's dramedy as inspiration for a fun Oscar-night fete, and don't forget to fill out a ballot for a chance to win big yourself.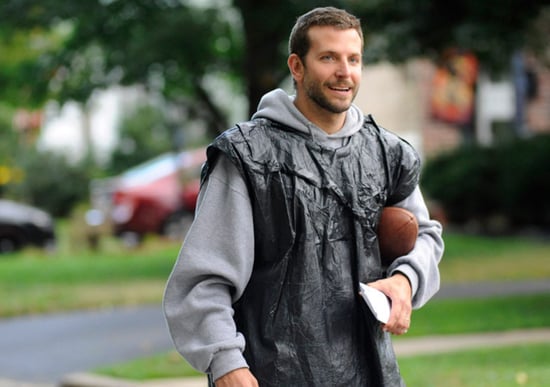 How to decorate: Your accent colors should be green and silver to pay homage to the Philadelphia Eagles, the favorite football team of Cooper's character, Pat. Scatter footballs around the party for more of a feel (and give people something do when those Oscar speeches run long).
How to dress: Gray sweats with a garbage-bag poncho or Lululemon pants, though if you'd prefer to go more formal, don your finest Eagles jersey and chain.
What to serve: The same kind of Sunday football-themed snacks Pat's mom serves religiously: "crabby snacks and homemades." Improvise those eats with crab dip and other finger foods like pigs in a blanket, buffalo wings, and seven-layer dip. Don't forget the cold beer.