Siskel and Ebert's At the Movies Gets Cancelled
Do You Read Critics' Reviews Before Going to a Movie?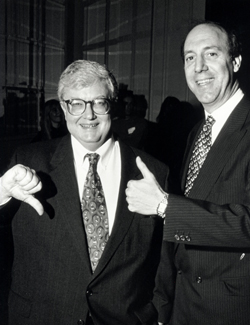 Today, Disney-ABC Domestic TV pulled the plug on At the Movies, the long-running show featuring a critical take on the week's films. Over its nearly 30 years, the program has seen several changings of the guard — Gene Siskel and Roger Ebert made it popular in the '80s, Richard Roeper stepped in after Siskel's death, and most recently A.O. Scott and Michael Phillips have taken over the reins.
Disney-ABC blamed its decision on the show being "no longer sustainable," which makes sense, what with the ease of finding reviews online. Even so, I'm somewhat sad to see it go, and question if part of the reason is perhaps because many people don't want to hear a critics' perspective on a film they're dying to see. Many popular movies have been critically mixed (think New Moon or the current Alice in Wonderland), which means that audiences either don't read the reviews before going to theaters — or they just don't care. What say you?