The Sitter Trailer Starring Jonah Hill
The Sitter Trailer: Don't Trust Jonah Hill With Your Kids
Jonah Hill introduces the the red-band trailer to his upcoming comedy The Sitter by calling it the "filthiest R-rated babysitting movie ever made." The fact that the preview opens with a woman climaxing leads me to believe Hill isn't exaggerating, and that his adventures in babysitting will make those of Elisabeth Shue back in the '80s look tame by comparison. Whether or not a raunchy take on caring for children will work is another question.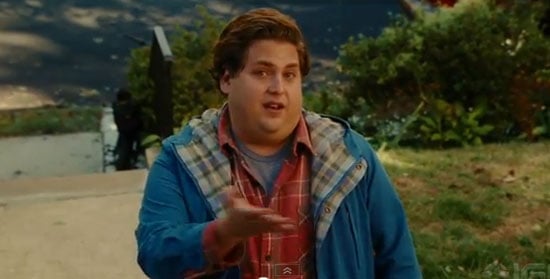 Hill's character, a broke college student, initially resists his mother's advice to babysit in order to make some extra cash, arguing that adult men don't babysit. Perhaps that's because as a babysitter, Hill leers at his clients and threatens their children with murder. His main concern is hooking up with Ari Graynor's character (the aforementioned climaxer), and he ends up dragging the kids he cares for around in a cross-town pilgrimage for a booty call. Along the way, there's a lot of cursing, and a run-in with drug-dealing criminals.
The movie seems in line with the recent bout of R-rated comedies that often rely on shock value for laughs, so I'm curious to see how far the three young kids will be pushed for the gags in this movie. The film comes out this December, but you can see how you feel about Hill's babysitting abilities (warning: NSFW!) when you
.