Skyfall Movie Review
Skyfall: Daniel Craig's Bond Is Back on Top
In Skyfall, there's a lot of suggestion that James Bond may be getting too old for this stuff, but as I watched Daniel Craig nail all the stunts while looking more stylish than ever, it was clear that the Bond franchise has never been fresher. This time, Bond takes on the villain Silva (Javier Bardem), a terrorist whose weapon is technology. When Silva releases top-secret information about Britain's undercover spies and goes after M (Judi Dench), it triggers Bond into action — and we're rewarded with seeing the superspy in all his sexy, suited-up glory.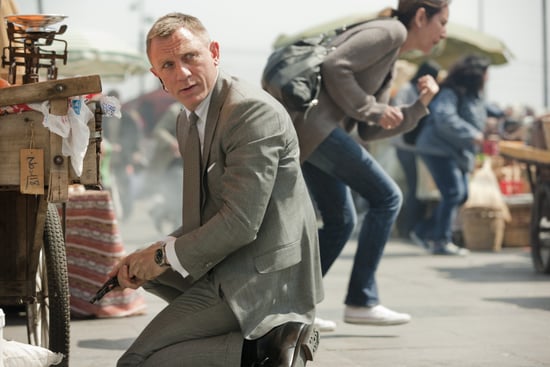 Skyfall works because it blends both the old and the new Bond elements so well. It's safe to say that this success is from the touch of first-time Bond director Sam Mendes, who integrates those classic elements (the familiar theme swells at opportune moments and the stylized intro is both cool and old-school). And while Bond's badassness disproves his obsolescence, the new elements, like some cast members, liven things up too. There's Bond's young new gadget-guy, Q, played with charming wit by Ben Whishaw, and Ralph Fiennes makes his debut as the new head of the Secret Service. But this movie is still all about Bond, and with his third film, Craig is more comfortable — and better — than ever.
To find out what else I thought, just keep reading.
Skyfall is high in energy, starting with the action sequences. They range in description from wildly impressive (Bond leaps on and off trains) to just plain bonkers (he uses a Gila monster as a boost), but they're all so much fun. Even when they're silly, you accept it because this is James Bond. He can do whatever he wants, especially when he pulls everything off with such flair (I will never get tired of seeing Craig adjust a cufflink or tie after some death-defying feat). And there's the added bonus that Craig can make those Bond one-liners sound smooth rather than cheesy.
Then there's Bardem as Silva, a villain who recalls the campiness of the most outrageous Bond nemeses. He swaggers around Bond in his foppish ensembles, spiritedly delivering his lines as the movie's comic relief. He may not strike fear into your heart, but he's certainly entertaining (and that blond dye job is worth it to nudge his character right over the top). Silva's antagonism is somewhat unique, though; yes, he has the usual evil agenda with disastrous consequences, but the greater danger is in Silva's narrowed target: M. This makes things personal for Bond, a man who's decidedly not into getting very personal.
It's a good thing that we get to see a relationship dynamic between M and Bond, because the other ladies of the film (Naomi Harris and Bérénice Marlohe) aren't tasked with much. I know that Bond girls rarely have a ton of substance, but the minimal character or romantic development for either of the women is the one thing Skyfall is missing. The ladies also don't have much dimension to speak of either, but they do look pretty. Not that they're prettier than Daniel Craig. That's just an impossible mission.