Sleepy Hollow TV Show Info
How Sleepy Hollow Is Influenced By The X-Files
New Fox drama Sleepy Hollow is based on the legendary folk tale, but the modernized series has some pretty flashy roots: it's being produced by a few of the movie world's biggest action filmmakers. Len Wiseman, director of the Underworld series, has teamed up with Roberto Orci and Alex Kurtzman — screenwriters for the rebooted Star Trek franchise and the upcoming The Amazing Spider-Man 2 — to bring us Sleepy Hollow, a procedural that updates Ichabod Crane's tale by placing him in present day and has him fighting the Four Horsemen of the Apocalypse — one of whom is, yes, headless. These Hollywood heavyweights hit the stage at TCA along with series stars Orlando Jones, Nicole Beharie, and Tom Mison, to tell us how they're making Sleepy Hollow cinematic — and how exactly the headless horseman will communicate.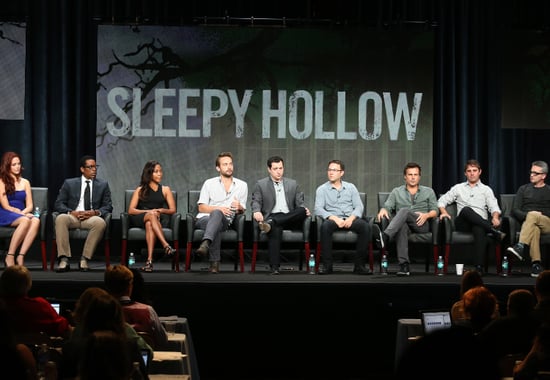 The fantasy show is "wildly, wildly influenced by The X-Files," Kurtzman told us, calling that show "the gold standard of genre television," and citing the fact that "you could leave the show for a couple weeks and you could come back and you wouldn't be lost." Sleepy Hollow also shares the fact that it's a mystery series and a procedural, only instead of Mulder and Scully, you have Ichabod Crane in present day and Beharie as a New York cop.
Cocreator Wiseman is also directing some episodes, and he told us that the aesthetic for the show is "a slightly different world than our own," one that is "dark, but dark while being fun at the same time." Wiseman's movie background will probably help him with their goal. "We want to create a movie on television," he said.
The headless horseman is going to be a character with a lot of personality, and Wiseman said a fun challenge is finding out "how much personality you can actually get from somebody when they're not expressing." Even without a head, he can hear and write things down, and in flashbacks, he'll be a man with a head (though he has not been cast yet). Wiseman said one big question about putting the character in our time is, "if he were to be confronted with our modern day weapons, would he take note of that and adapt that?" Hmm, the headless horseman with a bazooka? Pretty scary.