Smash TV Show TCA Interviews
Why NBC's Musical Smash Isn't Like Glee
NBC drama Smash is about to burst onto the small screen, and the cast and producers alighted the TCA stage today to talk about how the Broadway-set series will play out. The series follows the production of a musical about Marilyn Monroe, and stars Katharine McPhee, Debra Messing, Angelica Huston, and more chatted with reporters about the characters, the fictional play at the center of the series, and how the show isn't like Glee despite its musical premise.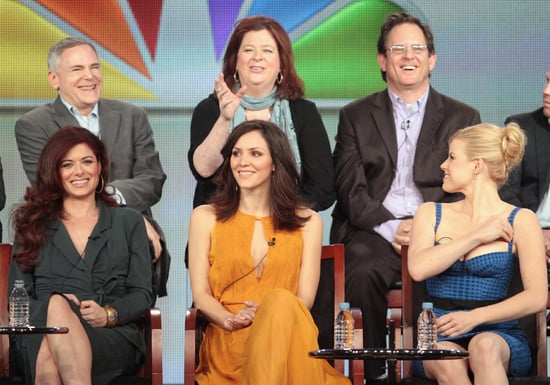 The Glee comparisons were bound to come up, which executive producer Craig Zadan was happy to address. "I don't think the show is like Glee, but we feel grateful to Glee for opening that door," he said, adding that Ryan Murphy "broke a great record" and made networks believe there was room for a show like Smash.
The producers talked about the outline for the season, saying that season one will follow the preproduction and prep of the musical Marilyn, but it wouldn't be until season two (if Smash is renewed) that we'll actually see Marilyn having its run on Broadway.
Steven Spielberg is an executive producer, and though he wasn't at TCA physically, we got to see a special prerecorded message from the legendary director. While he acknowledged that he's not the first person you think of when you think of stage musicals, he talked about how much he liked the drama of "the exciting world of Broadway."
Debra Messing, who plays a producer, was naturally asked about how this experience compares to working on her last NBC series, Will & Grace. She said you couldn't compare the two series because they're "like apples and oranges," and though Will & Grace was fun, but "the amount of fun I'm having on [Smash] is so ridiculously off the charts."
Addressing a rumor that the fictional musical Marilyn could be a real Broadway show, executive producer Theresa Rebeck dismissed the idea, explaining that the showrunners are simply "aiming to write a great television show," — but that anything could happen.
Star Megan Hilty talked about the presence of theater stereotypes like backstabbing, rivalry, and the casting couch in the series. Hilty, who plays Ivy, a stage actress up for the role of Marilyn Monroe, is a Broadway star in real life, and simply said "It happens" when asked if the stereotypes were true for her own experience. "Those stereotypes are there for a reason," Hilty said, and added that Broadway is a minefield for a TV show. "The drama that happens behind the curtain is way more interesting than what's happening onstage."