Snap Judgments For 2010 Oscar Nominations 2010-02-02 10:30:11
2010 Oscar Nominations: Snap Judgments
The 2010 Oscar nominations were announced this morning, and many of the nominees have already heard their names in the running for something. But like any award show, there are a few surprises — and though a lot of my predictions did come true, I found myself both pleasantly surprised and a bit disappointed at the inclusion or exclusion of some nods.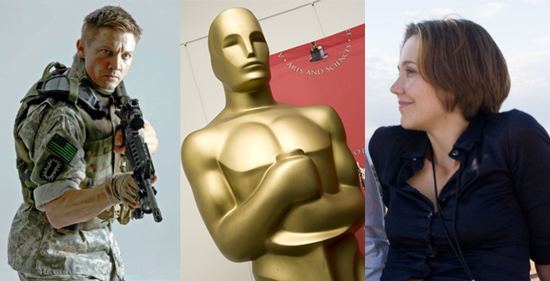 Maggie Gyllenhaal proved to be the dark horse in the supporting actress category for her role in Crazy Heart — she hasn't received any recognition this award season yet, and as a Gyllenhaal fan, I'm proud of her.
Though it was almost certain that Kathryn Bigelow would get a Best Director nomination for The Hurt Locker (especially coming off her Director's Guild win), it's worth noting that she's only the fourth woman to ever be nominated in the category — and if she wins, she'd be the first woman to ever take the honor home.
Up made it into the Best Picture category! I predicted it would be included with the 10 nominees, but I'm still happy to see that I was right and that the Academy didn't confine it to the Best Animated Feature category.
To see what else I've been thinking this morning, just
.
Obligatory Avatar comment: Yep, James Cameron's masterpiece leads the pack with nine nominations, although Leona Lewis's "I See You" was shut out of Best Original Song.
The Coen Brothers have proved to be Academy darlings, as evidenced by the Best Picture nod for A Serious Man. Not only was I not expecting that, but I definitely thought that Michael Stuhlbarg's performance was even more worthy of a nod than the film as a whole.
But kudos to Jeremy Renner for getting a Best Actor nod — it's great to see the acting of The Hurt Locker get some love.
After being snubbed at the Golden Globes, I'm glad that Lee Daniels got a directing nomination for Precious here in the big leagues. Like Bigelow, a Daniels win would be a milestone: he'd be the first African-American to win the category, and he's only the second to be nominated.
Though it wasn't able to make many Oscar waves, I'm happy that Nine popped up in the Best Supporting Actress category for Penelope Cruz.
I wasn't expecting Where the Wild Things Are to get recognized in the major categories, but I'm disappointed that there was no appreciation on it for the technical side of things, like costumes or visual effects.
And in a smaller category, I was thrilled to see the intense and heartbreaking dolphin-hunting documentary The Cove nominated for Best Documentary Feature.