Sneak Peek at Dexter Season 5
Dexter's TCA Panel Gives More Hints at Season 5
Between peeks at Showtime's newest shows, we got a chance to chat with the cast and showrunners of an old favorite: Dexter. We've been waiting for the drama to return with bated breath ever since the jaw-dropping season four finale, and now there're just a few more weeks to go. At today's panel, Michael C. Hall, Jennifer Carpenter, and other cast and showrunners answered questions about how Dexter will react to Rita's death when the show returns on Sept. 26.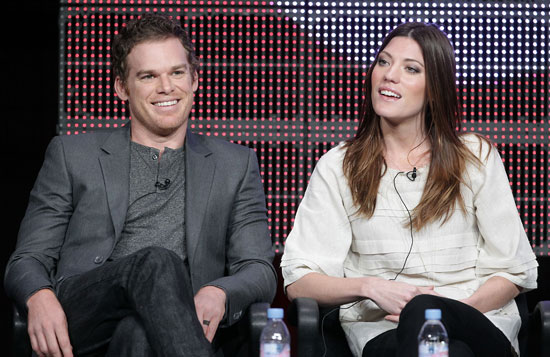 Reporters wasted no time diving into the personal issues: Michael C. Hall's battle with cancer and his marriage to onscreen sister Jennifer Carpenter. Hall was diplomatic about both, saying that it was "gratifying" returning to the set for season five because "I was thankful that the hiatus managed to coincide with my treatment. It's really become a family at this point and it was gratifying to see across the board how excited everyone is to be back."
As for his relationship with Carpenter, he said, "I think from our perspective, we met at work. We've always been comfortable working together. I think from the inside it's not such a difficult thing to wrap our heads around or our lives around. And it's nice to be on the same schedule."
The cast and showrunners were tight-lipped about next season (beyond the trailer), but they did reveal a few hints. It may look like

Dexter

is on the verge of a nervous breakdown, but the next batch of episodes will be more about coping with his life as a single dad and feeling the need to atone for Rita's death.
Speaking of atonement, the new characters (Shawn Hatosy, Julia Stiles, Jonny Lee Miller) will all be part of

Dexter

's journey, and we should expect to see more of an ensemble cast when season five picks up.
For more on whether or not Julie Benz will return and how Jennifer Carpenter approaches her role, just keep reading.
As expected, season five will begin immediately where season four left off. For those of you wondering if Julie Benz will be returning, we're told that we'll see more than "just her body in the bath tub" but she won't be a full-fledged ghost or vision like Harry.

Dexter

's colleague Vince may be getting closer to finding clues about

Dexter

's secret, but his real-life counterpart isn't hoping for it. C.S. Lee quipped, "I hope he doesn't get too close or else he'll be the next one to go!"
Jennifer Carpenter dished a little on how she approaches her character season after season, saying, "I spend a lot of time justifying how she's not in a strait jacket. What I'm learning is that life on this show happens not only in TV time but on

Dexter

time, so the healing process is more rapid. Because I'm so much more emotional than

Dexter

is, it's hard not to carry that into every scene. She [Deb]'s compartmentalizing in a way she hasn't before. She's going to work, hiding there, being seen there."
So does Michael C. Hall have any guilt in real life about portraying a serial killer? Not a chance. He said, "I don't lose sleep over the possibility that I'm advocating serial murder through my work. I think it's undeniably relatable. He's killing people: we all spend time in traffic; we get that impulse. I'm proud of the show."
After the panel concluded, I had the chance to chat with Hall about the new season. Check out my exclusive interview!