Snitch Movie Review
Snitch: 3 Reasons Dwayne Johnson's Movie Falls Short
Those expecting to sit down for a rock 'em sock 'em action thriller may be disappointed to find that isn't the case for Dwayne "The Rock" Johnson's latest film, Snitch. Instead, you'll find a mediocre drama laced with social messages, as well as some restrained action sequences. Johnson plays John, an ordinary guy who owns a construction company. When a friend sends his son Jason (Rafi Gavron) a package of illegal pills in the mail, the district attorney's office aims to make an example out of him by sending him to prison for at least 10 years. The only way for Jason to reduce his sentence is to assist law enforcement in taking down suppliers, which he refuses to do. Against the advice of a US attorney (Susan Sarandon) and the DEA agent on the case (Barry Pepper), John takes it upon himself to infiltrate local drug rings in order to free Jason. The story is almost too insane to believe it's inspired by true events, which it is. Ultimately, Snitch employs some Hollywood tricks and twists, but not enough to make it compelling.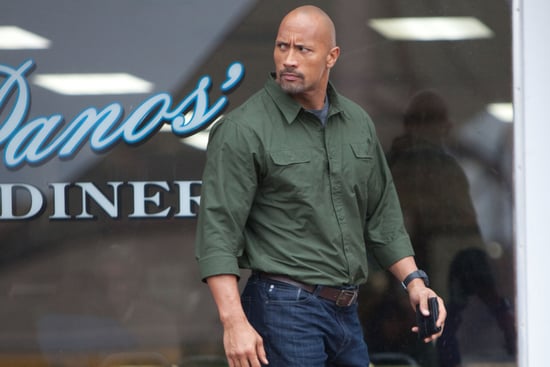 Get my top three gripes about the film after the jump.
Dwayne Johnson is terribly miscast. Whether he's punching dudes or playing the Tooth Fairy, Johnson's one of those actors who always seems to be having fun on screen. In Snitch, nary a smile does he crack. He's playing an everyman, and let's face it: Johnson is no everyman, no matter how much everyone around him pretends he isn't built like a brick wall. It's not that he can't hack the emotional moments, but the role seems like it's meant for someone who isn't so obviously physically domineering.
There's not enough Susan Sarandon. When you've got an Oscar-winning powerhouse like Sarandon in your movie, use her. She's fantastic as Joanne, the attorney caught in a moral dilemma. She's hesitant to knowingly allow John to enter into such a dangerous arrangement, but since she's poised to win an upcoming election, she's seeing stars in her eyes at the drug haul he has the potential to bring in. Her scenes are the best in the movie, but there aren't nearly enough of them.
It's not exciting. This is a drama, I get it. But for a movie with a poster showcasing an 18-wheeler engulfed in flames, you'd think there'd be some more action. Instead, there are a lot of serious talks, sorrowful tears, and pensive glances. The film pushes an overarching message about the injustice of mandatory minimum laws — those which require offenders go to prison for a time equivalent to the amount of drugs they've been caught with — and more than once it comes off as eye-rollingly preachy. We do get some action at the end, but Snitch just takes way too long to get there.