Snow White and the Huntsman Review
Snow White and the Huntsman: A Fairy Tale For the Action Fan
A re-imagining of a familiar tale like Snow White has to have a twist to make it compelling, and Snow White and the Huntsman has two: there is a ton of action, and the damsel in distress is actually a fearless leader. The princess in question is played by Kristen Stewart, who's a long way from the Twilight Saga, but alas, she's still in a state of constant mortal danger. Her evil stepmother, Queen Ravenna (Charlize Theron), hates the girl whose pure, beautiful spirit is a threat to her power. After killing the king, Ravenna imprisons the princess and lets the kingdom fall into a state of poverty and decay until the day Snow White escapes. The queen sends a handsome huntsman (Chris Hemsworth) after her, but he quickly switches sides and allies with Snow White to help her dethrone the queen.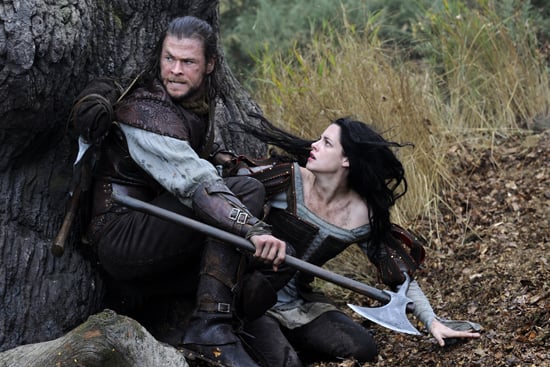 The movie kicks into high gear once Snow White turns her jailbreak into an attack on the queen, though there are a few times when things slow down for a few unnecessary story elements. The film feels overstuffed at times, but there's enough action and romantic drama to make it a fun fantasy worth seeing. To find out what else I thought of Snow White and the Huntsman, just keep reading.
One of the movie's greatest successes is its visual style, which ranges from sumptuous to disturbing. The sequins on Queen Ravenna's gowns sparkle like diamonds, and the imagery really adds to her character. Her makeup shimmers and enhances her gorgeous face when she's looking youthful and powerful, but in other scenes, her deep wrinkles and under-eye bags are emphasized to illustrate her weakness. It's just an extra layer to the evil queen, who's already incredible thanks to Theron's acting. Conversely, the visuals are also a fault; there are times I'd wish the director had reined back on all the special effects and eliminated some of the forest creatures, especially when the movie is running long.
As for Stewart's Snow White, both her English accent and performance are impressive, particularly in the action sequences. Many young ingenues would be believable as a pretty young thing that entire kingdoms fawn over, but it's the essence of Stewart that makes Snow White a badass. However, what makes her character truly interesting is her relationship with the huntsman, who's a fully fleshed-out character here. On paper, he wouldn't seem like such a charmer — he's got a painful past and a pathetic present when we first meet him — but Hemsworth's portrayal is charming and magnetic. He makes the huntsman not just the best character of the movie, but the best part of the movie.
I would have liked to see more romance to balance out the many battle scenes, but alas, things aren't wrapped up as sweetly as in a Disney film. Still, Snow White and the Huntsman may be unconventional, but sometimes a good story is all the happily ever after you need.