Snow White and the Huntsman Sequel News
4 Things I Want to See in the Snow White and the Huntsman Sequel
Snow White and the Huntsman just came out last week, but a sequel is already in the works, with Kristen Stewart and Chris Hemsworth reprising their titular roles. Since the action-heavy fairy-tale flick has a rather open ending (in one aspect, anyway), sequel news isn't surprising, but I do have a few ideas for what I'm hoping to see in a follow-up (warning: spoilers ahead).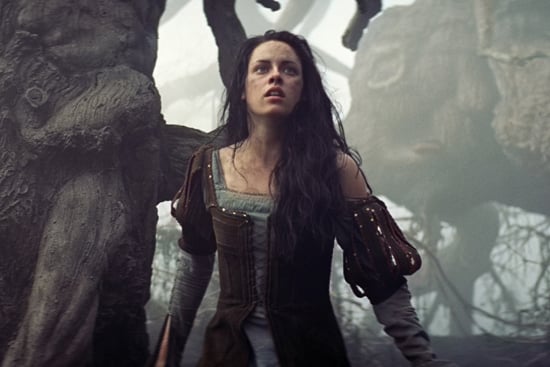 A love story. It's frustrating that Snow White doesn't choose between her two very good-looking suitors at the end of the film, so I'm assuming that the sequel will address this, and perhaps let it be the focus. I think it's pretty obvious that she belongs with the huntsman rather than William (Sam Claflin), the boy she's known since childhood, and I really want to see a good, hot kiss — and more romantic action in general — between Stewart and Hemsworth.
Better character development. There's so much going on in Snow White and the Huntsman that some elements suffer, like fleshing out the characters. We learn a lot about Queen Ravenna, but for the most part, the other characters aren't as dimensional. I'd love to find out more about the huntsman's past and see more of Snow White's personality.
A more glamorous Snow White. Snow White spends most of the film grimy, covered in dirt, and mostly in only one outfit (the horror!). After she overthrows the queen, we finally see a cleaned-up, gorgeous Snow White as she claims her rightful place on the throne. I'm hoping the sequel lets Stewart play dress-up in as many opulent looks as Charlize Theron's Queen Ravenna this time, so we can see Stewart looking regal in some awesome costumes.
A more consistent tone. Snow White and the Huntsman is a pretty dark take on the classic story, but there are times when things suddenly get light — and downright weird, thanks to things like forest fairies. I'd like to see fewer effects used for the sake of using effects in favor of some consistency from the director.