Somewhere Movie Review Directed by Sofia Coppola and Starring Stephen Dorff and Elle Fanning 2010-12-22 05:00:00
Somewhere: Destination Unknown
There's real beauty in a film that can make you feel so much by saying so little. It's refreshing, even, when a filmmaker resists force-feeding you a story. Sofia Coppola uses this approach with Somewhere, and she succeeds in producing a subdued film — but the problem is that it's so subdued, you never actually connect to the characters or the story.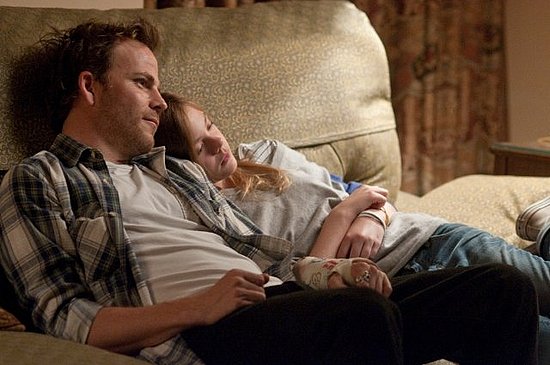 Stephen Dorff plays Johnny Marco, a movie star whose priorities are partying and appearing in cheap but profitable films. Shacked up in the famous LA landmark Chateau Marmont, Marco is still a good-looking Lothario, but his fast-paced lifestyle hardly seems fulfilling. His 11-year-old daughter Cleo (Elle Fanning) helps to fill the void, and though he rarely sees her, he adores her nonetheless. When Cleo's mother unexpectedly takes off, leaving Johnny to take care of her, they spend a few weeks of quality time together. I would love to say that the father/daughter bond deepens with each passing moment, but Coppola provides so little that you're not actually sure how the characters feel. It's disappointing; while Somewhere is a dreamy, visually pleasing effort, Coppola delivers more style than substance.
To find out more about why I thought Somewhere goes nowhere, just read more.
Coppola provides a minimum amount of dialogue for her actors, but luckily Dorff and Fanning are able to take the extra steps necessary to provide depth to their roles. Even as a carefree party boy, Dorff has a certain innocence in his expressions. He seems to be an actor who got swept up in the ride of his life, as opposed to being driven by ambition. Fanning is also a gem as the tween daughter, a dose of more genuine innocence in Johnny's life.
Unfortunately, Johnny and Cleo's emotional scenes are so brief and few that you're left feeling deprived. We get plenty of scenes of them having fun together — traveling, playing video games, swimming — but it's a mere snapshot of their interaction. It's frustrating because you want to feel the relationship between the characters. Johnny and Cleo are beautiful blueprints for characters, but with no plot, little story, and no character development, you never really get anywhere.