The Son of No One Review From the Sundance Film Festival
Sundance Snapshot: Channing Tatum Shows His Chops in The Son of No One
Though my time at the Sundance Film Festival is winding down, I've still got plenty of goodies to share with you all. The Son of No One piqued my interest for its star-studded cast, and though the cop thriller wasn't my favorite of the festival's offerings, it's not without its merits. Here's how the film measures up.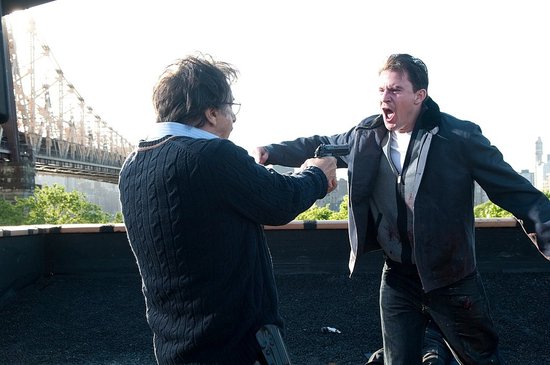 Who's behind it? Dito Montiel (Fighting, A Guide to Recognizing Your Saints) wrote and directed the film, which stars Channing Tatum, Katie Holmes, Al Pacino, and Tracy Morgan.
What's it about? The film captures two different times in the life of Jonathan White (Tatum). In 2002, he's living in Staten Island with his wife (Holmes) and young daughter. He commutes two hours a day to work as a rookie in the police force, and his personal life and career are put into peril when he starts receiving threatening messages about his haunting past. The other half of the movie shows Jonathan as a young boy living in the projects, and the audience soon learns that the older Jonathan has some serious skeletons in his closet that could destroy everything he's built.
To see where the film impressed me, just read more.
The Son of No One is a run-of-the-mill cop thriller. The film is largely focused on themes we've seen before like police corruption and post-9/11 repercussions, and like many other films of its genre, it values violence over character enrichment. Though it doesn't break any new ground, it's still engaging as both a thriller and a mystery. The script could have benefited from more character development, particularly for Katie Holmes, who does little more than toss glaring looks and accusations at Tatum. With that said, I was impressed with Tatum's performance as Jonathan. As the film's leading man, Tatum brings enough intensity and compassion to carry the film. Tracy Morgan's serious turn as a troubled friend from Jonathan's past also caught my attention: it's not a big enough role to really stand up and take notice, but it definitely left me wanting to see more of Morgan outside of his 30 Rock bubble.