Spring Breakers DVD Release Date
Spring Breakers Is Out on DVD: 5 Reasons You Should Get It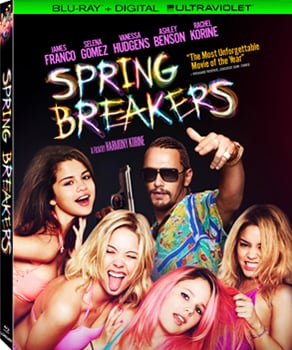 The time has come to find out why your friends keep chanting "Spring break forever" to each other. The Spring Breakers DVD is hitting shelves this week, and the extras are presenting some compelling reasons to grab a copy, even if you've already seen the movie.
Now if you haven't seen the movie (and were hiding under a rock during its release), Spring Breakers made waves for featuring bikini-clad girls — including former Disney stars Vanessa Hudgens and Selena Gomez — who get into more than their fair share of trouble while on break. To blame for a lot of the action is James Franco as the sketchy but compelling gangster Alien, who takes the girls under his wing. So if you missed it, then check it out at home and find out what comes with the DVD after the jump.
Deleted scenes and outtakes: Watch Franco try multiple times to get "Look at my sh*t" right.
A behind-the-scenes featurette: The three-part documentary is ingeniously called Breaking It Down: Behind Spring Breakers.
Director commentary: Harmony Korine sits down to spill on Spring Breakers, scene by crazy scene.
Harmony's Ear Candy: Find out how the director and filmmakers went about choosing the movie's soundtrack.
VICE featurettes: The movie partnered with VICE to get a look inside the partying that really happens down in Florida.