Stefano Langone Voted Off American Idol
Was the Right Contestant Voted Off American Idol?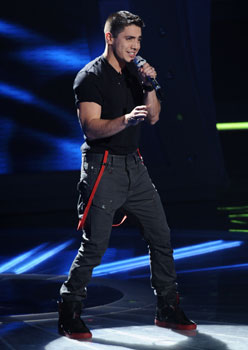 With only seven left in the competition, we're starting to get to the good stuff on American Idol. The judges provided more negative feedback than usual this week, which made the bottom contestants a bit easier to predict. I wasn't surprised to see Jacob sent to the stools, since his performance started off a bit shaky, and Stefano has been in trouble for weeks now. In the end, Stefano's dancing skills couldn't save him and he was sent packing. Do you agree with America's decision?
Photo courtesy of Fox