Stephen Chbosky Interview For Perks of Being a Wallflower
Stephen Chbosky Says That Making Perks of Being a Wallflower Is "a Dream Come True"
The Perks of Being a Wallflower was written 13 years ago, and this Fall, the adaptation is being brought to the big screen by its own author, Stephen Chbosky. Chbosky wrote the screenplay and directed the film after carefully casting the coming-of-age drama, picking young, talented actors like Logan Lerman and Emma Watson to play high-schoolers Charlie and Sam. At a set visit of the film I attended last year with several other reporters, we talked to Chbosky about turning the novel into a film, shooting the movie in his hometown of Pittsburgh, and why he knew he had made the right casting decisions.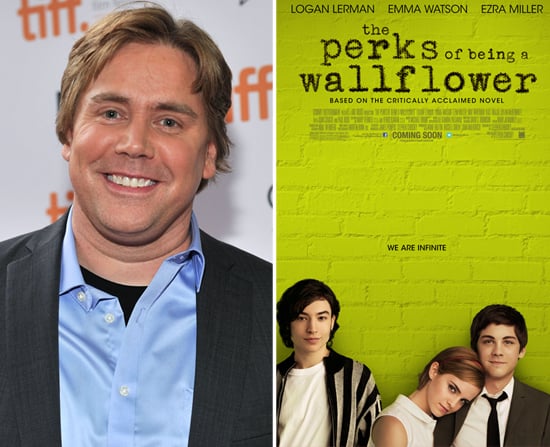 How was it adapting your own novel for the screen?
SC: It really is, as cliché as it sounds, it's a dream come true. I've wanted to make this movie. I first thought of the title of this movie 20 years ago this Fall — or, the title of the book and movie, 20 years ago this coming Fall. So I always felt that it would probably be both. And so yeah, it is a dream come true.
Had you intended for it to become a movie when you were writing the book?
SC: I hoped that it would, yes.
It's been 13 years since the book came out; where do you think Charlie is today?
SC: Um, you'll have to read the sequel [laughs].
What changes did you have to make to shift the book's letter format to a narrative screenplay?
SC: I didn't have to make many changes; I just had to be very specific about the execution. You have to see it; it's hard to describe intellectually. You have to just see it. What I found was, I wrote the book as a series of letters because I wanted the reader to feel very intimately connected to Charlie, and so it was finding a point of view from the film that would lead to the same connection. And luckily with Logan Lerman, it's not very difficult to get that sense of connection.
Find out what else Chbosky said about the film, and why he chose Watson to play Sam after the jump.
Is Charlie narrating the movie?
SC: You see him write letters. It's not a straight narration; it's more part of his character. Just like he would write letters in real life and in the book, you see him do it.
Are the letters going to be a big part of the film, too?
SC: Yeah, it'll be a part of the film, absolutely.
When you were picking places for filming locations in Pittsburgh, where you're from, were there any places that were particularly meaningful?
SC: Yeah, quite a few. The place where we shot The Rocky Horror Picture Show, the Hollywood Theater in Dormont, that's the very first place that I saw The Rocky Horror Picture Show and the first place I saw the floor show. And so going back there 25 years later was incredibly meaningful. I loved it. I love filming here at Peters Township [high school], I love filming at Kings, where my parents eat breakfast three times a week.
How did you know that you cast the right people for the roles?
SC: You know, I had a philosophy, we all had a philosophy, which is: "Don't just cast actors, but cast people." So what happened was everybody basically auditioned, and so what you looked for was not just the individual performances, but how you thought they would fit together. And one of the great joys has been watching this fictional group of friends over the Summer become a really tight family of friends. All of them — Emma, Ezra [Miller], Logan, Nina [Dobrev] — were really across the board. So yeah, it was just an instinctive thing, and how we felt people would fit together. And we have an amazing cast. I mean across the board. There is not a weak link, not a single one.
Why did you want Emma for Sam?
SC: I wanted Emma for Sam because I think that she has this amazing . . . she's luminous, but she's also incredibly approachable. She's very down to earth; she's very fragile, but in this very beautiful way. And to me, that's all the qualities that I always saw in Sam. Plus, she can dance. The girl can dance.