Steve Carell Says Season Seven of The Office Will Be His Last
The Next Season of The Office Could Be Steve Carell's Last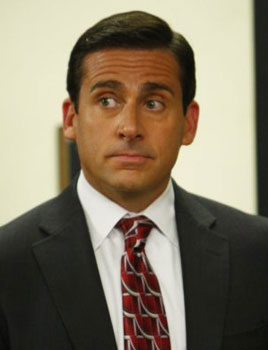 OK, so I know I played a little April Fool's joke on you all when I claimed that John Krasinski was ready to check out of The Office, but this rumor is more serious: Steve Carell may be leaving Dunder Mifflin for real. In a recent BBC interview, Carell revealed that he's only under contract for one more season (after the current one ends) and is not likely to stick around for more.
Now we all know that money talks, and I find it hard to believe that NBC would let Carell walk away from one of its biggest shows without a fight — but on the other hand, you can't blame the guy for wanting to focus on his movie career after spending seven years behind Michael Scott's desk.
Personally, I think The Office is in desperate need of a facelift, and perhaps this could be just what the doctor ordered. Of course, it won't be the same without their bumbling, fearless leader, but the show has plenty of amazing supporting actors who could potentially keep the show afloat for a couple more seasons. Then again, it didn't exactly work for Scrubs. What say you — can (or should) Dunder Mifflin go on without Steve Carell?
Photo courtesy of NBC