Steve Martin Interview on George Clooney, Pranks
Steve Martin Does Not Approve of Clooney-Style Pranks
Steve Martin chatted about The Big Year at a recent press day in NYC along with his costars Owen Wilson and Jack Black. The trio, who play birders competing for a world record in the film, have great comic chemistry, and they joked about their antics on set and even confessed to a night of debauchery. The Big Year trailer gives a peek of what's to come when the movie is out on Oct. 14. The three get along great, but Steve in particular was happy their on-set time didn't include any out-there pranks. They said: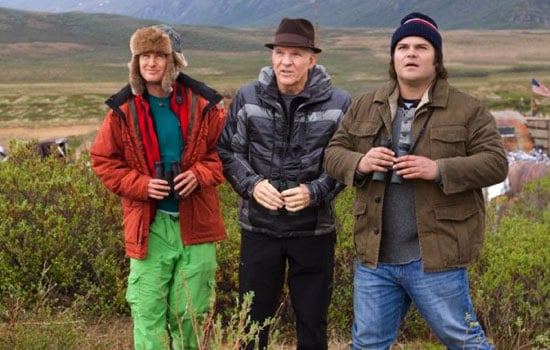 What was it like on set – were there any pranks?
Steve Martin: I'm not much of a prankster.
Owen Wilson: Oh come on, April Fool's Day — you wait for that to come around like nobody's business.
SM: On April Fool's Day, I change people's calendar to April 2nd.
OW: It wasn't really a prank-filled set
SM: When I hear about a prank-filled set, I think, "Ugh, I'm so glad I'm not on that movie."
Jack Black: Every time I do a press junket I always regret that I didn't pull a George Clooney prank, so that I would have a prank to talk about later. We really missed an opportunity there, guys.
SM: We should have hired a writer to come up with some pranks that we could have said we played. We did have fun and we hung out on the set.
To read what else the guys joked about, just keep reading.
OW: Back on base camp it was nice because we would hear Steve playing the banjo or Jack reading a comic.
SM: You could hear him read a comic.
JB: I am a very vocal comic book reader. We had a good time in the Yukon. We had a night of debauchery, and by that I mean gambling.
SM: The Yukon was in the midnight-sun time, so it never got dark. We came home at midnight and Owen went to play golf.
OW: That's right, I teed off at midnight. It was called Top of the World Golf Course. You could literally hear wolves howling around the fourth hole. And the ball flies a mile out there. I was crushing it.
JB: It's like you're on the moon.
OW: And Jack and I played one day.
JB: There was a competition there.
OW: You won.
JB: I didn't want to say it, but you still owe me a bottle of wine. Before we got to the end of the game you wanted to make it interesting: "The winner buys wine."
Do you have any similarities to the characters you play in the film?
SM: Actually, I am sort of uptight.
OW: I think I can get sort of competitive about some things. Growing up with two brothers we were always intensely competitive with anything– ping pong skipping a stone, anything. So that part of the character I can relate to.