Steven Tyler as American Idol Judge
American Idol: 5 Reasons I'll Miss Steven Tyler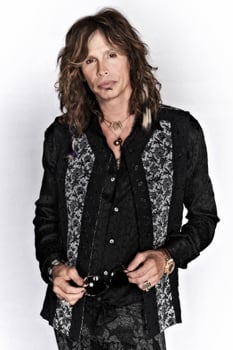 I've been cryin' ever since yesterday when I heard Steven Tyler would be relinquishing his judge's throne on American Idol. His announcement preempted fellow judge Jennifer Lopez's official word that she will also be leaving the show. And just like that, a regime has fallen. Though J Lo was a welcome addition to Idol, I was surprised at how Tyler quickly became my favorite judge when he joined the panel two years ago. I respect his decision to move on but that doesn't mean I have to like it. I've been pondering what made the Aerosmith front man such a fit for the show, and here's what I came up with.
He's got a killer sense of style. Fedoras, boas, snakeskin anything — Steven Tyler knows his way around a wardrobe. You ever see Simon Cowell wear an earring tasseled with multicolored feathers? I thought not.
He's unfiltered. Remember last season when he weighed the similarities between the "hot, humid, and happening" weather and 17-year-old Shannon Magrane — in front of her dad? Cameras or no cameras, Tyler said what was on his mind. We got to see a lot of that on the blooper reels of the many, many times producers had to bleep him and the many, many times he hit on the contestants. This brings me to my next point . . .
He loves the ladies. He's always the first one to tell a girl she looks smokin', and who doesn't love to hear that from a rock star who has made beautiful women around the world weak in the knees? His insistence on flattering every female contestant was one of my favorite parts about the show, and I'm not sure why, but coming from him, it just didn't seem creepy at all.
He was interactive with the contestants. Maybe I'm having a mental blank spot, but I don't remember ex-judges

Ellen DeGeneres

or Kara DioGuardi get up on stage to sing with a fan or go in for an impromptu slow dance with a contestant. Tyler seemed like he never tired of hitting high notes with competitors who were auditioning with Aerosmith tunes, and his humility was endearing.
He seemed like he really cares. Jennifer may have been infamous for sympathizing with contestants, but it was the level-headed Tyler that seemed like a big mush when people got voted out. He was the sage protector and I'm having trouble imagining another judge filling that role.
What are you going to miss most about Steven? Let me know below, cause I don't wanna miss a thing.