Summer 2010 Music Hits
BuzzSugar's Favorite Summer 2010 Jams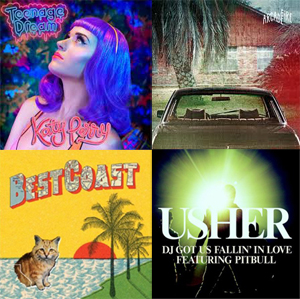 We may be saying goodbye to Summer, but we won't soon forget all the hot songs that defined this idyllic season (especially because some of them are such earworms they'll never get out of your head). A couple weeks ago, I asked you what your Summer jam was, but now I'm going to peel back the curtain and tell you what I've been listening to nonstop.
From some of the catchiest, cheesiest tracks to some brand-new indie material, I've been trying to mix up my iPod selections to have the most fun soundtrack of Summer. See — and listen to! — each of my favorite Summer songs when you read more.
Katy Perry, "Teenage Dream"
Arcade Fire, "Sprawl II (Mountains Beyond Mountains)"
Yeasayer, "Ambling Alp"
Usher, "DJ Got Us Fallin' in Love Again"
La Roux, "Bulletproof"
Ra Ra Riot, "Boy"
Best Coast, "Boyfriend"
Cee-Lo Green, "What Part of Forever"
Justin Bieber, "Eenie Meenie"
The Black Keys, "Tighten Up"