Summer TCA TV News
Rewind: Comic-Con Winds Down as Summer TCA Starts Up!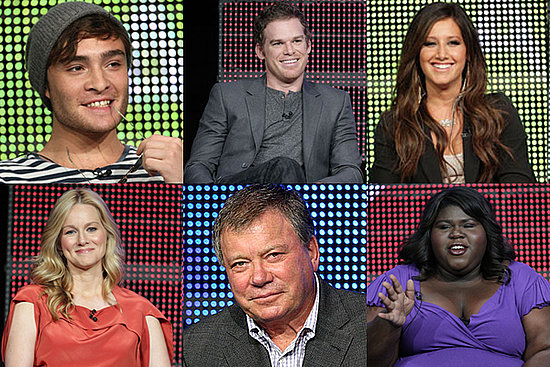 It hasn't even been a week since I got back from Comic-Con, and I'm already diving headfirst into Summer TCA! I've filled you in on new shows like Hellcats, The Event, Outsourced, and Hawaii Five-0, but I got some scoop on returning shows like Parenthood and Gossip Girl, too (including new photos and an exclusive interview with Chuck Bass himself, Ed Westwick!). But the really big news to come out of TCA thus far? Ellen DeGeneres is quitting American Idol. Fret not though, because FOX is reportedly eyeing Jennifer Lopez to replace her. I'm still waiting to hear the final verdict, but make sure to follow my up-to-the-minute coverage here on Buzz (and on Twitter) as I give you the news as it breaks!
Don't forget to give my interviews and spoilers from Comic-Con a look, too. Among them: an update on Community straight from the mouth of star Joel McHale, a discussion with the cast of Thor (including one of my new hot guys-to-watch), interviews with the casts of Vampire Diaries and True Blood, and even a marriage announcement from Will Ferrell. That's big news, indeed! If you missed any of it, check out my top highlights.
Those aren't the only celebs that I spoke with this past week. I also got a chance to talk to Julia Roberts about Eat Pray Love, as well as the stars of Scott Pilgrim vs. The World, including Anna Kendrick and Michael Cera.
Welcome back the kids from Jersey Shore and Tim Gunn and his new designers on Project Runway. Both series returned this week, which means my DVR just got fuller — not that I'm complaining!
Gwyneth Paltrow sings country. You don't want to miss it.
It's never too soon to start looking ahead to the Emmys! I'm starting to fill out my ballot now for Best Supporting Actor in a Comedy and Best Supporting Actor in a Drama, thanks to a little help from you guys.
While we're taking a look back this week, why not reminisce on the past month with my breakdown of the best and worst? Yogi Bear, you're in the doghouse.