Super Bowl Playbook: What to Watch For Between Touchdowns
The biggest Sunday in sports (better known as the Super Bowl) is just a few days away, but the holiday of sorts is about much more than just football and delicious snacks. That's right, I'm talking about what happens between field goals and mouthfuls of nachos: the commercials, the halftime show, and more. Here's a guide: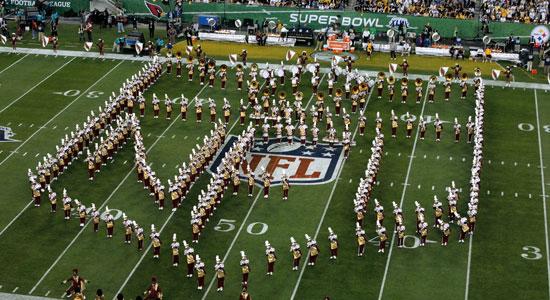 Carrie a tune: Carrie Underwood will kick things off singing the national anthem.
Make way for movie trailers: Expect to see TV spots lined up for M. Night Shyamalan's The Last Airbender, as well as Shutter Island and Iron Man 2. Disney and Universal have also bought up some air time, but are keeping mum about which movies will be featured — so keep your eyes peeled!
Don't hit snooze: In the midst of the typical pop music fare, don't be surprised to hear Arcade Fire. The band is letting the NFL use "Wake Up" (the same song featured in the trailer for Where the Wild Things Are) to help raise money for Haiti.
Come fly with me: The first ad for The Wizarding World of Harry Potter will give us another look at the much-anticipated theme park (though the commercial's already been leaked online if you can't wait).
Say who: The halftime show should be rockin', thanks to a performance by The Who. We might be hard-pressed to find a wardrobe malfunction this year, but I'm pretty excited about the prospect of a live rendition of "Baba O'Reilly."