Super Movie Review Starring Rainn Wilson and Ellen Page
Super: A Major Misnomer of a Movie Title
In Super, Rainn Wilson dons a costume to play a different kind of social avenger: one without any powers, strength, or special talents. Wilson plays Frank, a downtrodden diner cook whose spouse (Liv Tyler) has recently left him. He has an enlightening spiritual experience that compels him to suit up as "The Crimson Bolt," and run around his town fighting crime with nothing but a disguise, the intention to help people, and a huge, highly effective wrench.
Though Frank originally sets out to take down criminals like the smarmy Jacques (Kevin Bacon), the drug dealer that his recovering addict wife has taken up with, soon Frank finds himself literally splitting the skulls of anyone he perceives as corrupt. This includes citizens as innocuous as line cutters at the movie theater, leading the media — and the audience — to start questioning whether the Crimson Bolt is a bad guy himself.
When Frank befriends local comic book fan Libby (Ellen Page) while he's doing "research" for his side job, she figures out his secret identity and wants a piece of the action. Cue Page in a skintight green and yellow ensemble, pitching herself as "Boltie," a sidekick to the Crimson Bolt. The sight of Page in her homemade costume doing cartwheels and other silly gymnastic moves is a funny one — and the last time you'll laugh. Though Super begins as a comedy with an offbeat sense of humor, it takes a severe change in tone and turns into a movie that's needlessly violent and repulsive.
To find out what's so wrong with Super, just
.
In theory, there's a lot to like about the movie. Wilson is an unconventional comedy favorite, and he's well cast as an insecure dope who's easily taken advantage of. Before the violence of Super starts getting out of hand, Wilson's delivery of the mildly funny dialogue is spot-on. Similarly, Page is amusing as a bored hipster when she hasn't yet started her tenure as Boltie. But once the Crimson Bolt and Boltie take to the streets as a pair, Libby becomes frighteningly bloodthirsty. It's frankly unbelievable how psychotic she becomes.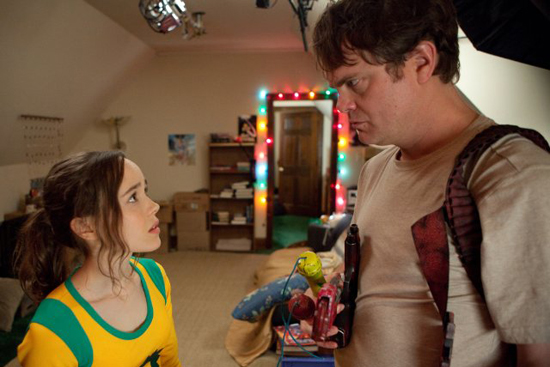 Though it seems that director James Gunn is going for a certain level of absurdity with the characters and the plot, it's poorly executed. Gunn completely misuses the kind of comic book fighting that other movies are able to pull off and instead offers scenes of stomach-turning brutality. If you don't do well with gore in movies, stay far away — this one is so aggressively graphic that I wanted to walk out.
Stuck on its frenzied roller coaster of bloodlust, the film loses all direction in its mission to shock. Once you're sufficiently disturbed, the ending seems to come out of nowhere. It's another 180-degree tone change, with a conclusion that doesn't fit at all. Super is a mishmash of madness — but not in a fun way.