Superman: Man of Steel Full Casting List
Casting Update: Who's in For Man of Steel
The principal cast of Man of Steel, Zack Snyder's new Superman movie, is getting more exciting by the week. We've known for months that The Tudors star Henry Cavill had nabbed the lead role, with Amy Adams beating out tons of other actresses to play his leading lady, but the rest of the characters are still being cast. With all the rumors running rampant, it can be hard to keep track of who's playing who, so here's a rundown on which actors will bring the beloved comic to the big screen in the newest reboot.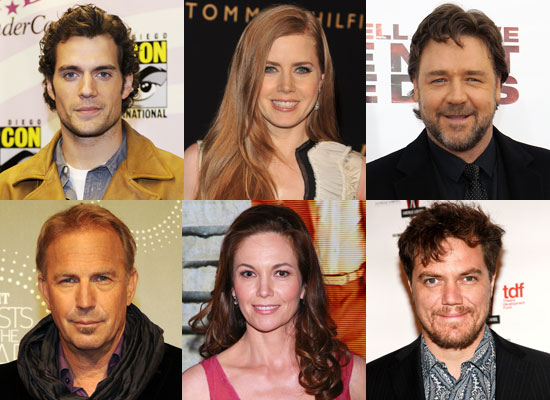 British import Henry Cavill will play Clark Kent/Superman. Born Kal-El from the planet Krypton, Superman is an alien who battles evil when he's not disguised as his alter ego, Clark Kent. Clark works as a reporter for The Daily Planet.
Amy Adams will play Lois Lane, Clark's love interest and fellow reporter at The Daily Planet.
Russell Crowe is in talks to star as Jor-El, Superman's birth father.
Kevin Costner will play Jonathan Kent, Superman's adoptive father.
Diane Lane is Martha Kent, Superman's adoptive mom and Jonathan's wife.
Michael Shannon will square off against Superman as the villainous General Zod, the head of the Krypton military.
German actress Antje Traue has been cast as female villain Faora.
Julia Ormond is attached to play Lara, Superman's birth mother.
Laurence Fishburne will play Perry White, Clark Kent's editor at The Daily Planet.
Superman fans, how do you feel about the cast?