TCA Tidbits: New Shows That Are Worth Watching
The TCA is fun for lots of reasons: not only to do I get to chat with some of my favorite stars (like Alison Brie and Joel McHale!), but I also get a peek at the new shows that the networks are cooking up. Now that we've recapped panels on Showtime, The Vampire Diaries, Lost, and Parks and Rec, let's turn our attention to the newcomers. Here's a rundown on what I'll be watching, what I'll be passing on, and what I'll have to wait and see about.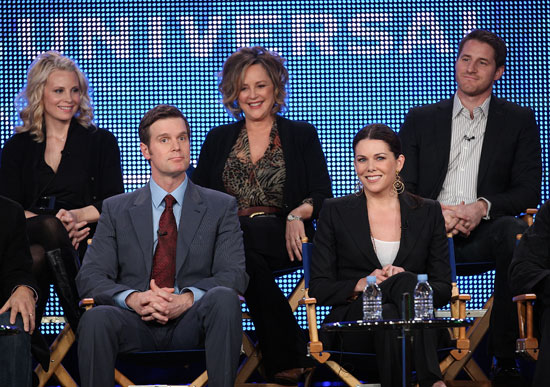 At the top of my list are Parenthood and The Deep End. I'm sure you've heard about Parenthood by now, especially since it was originally supposed to be part of the Fall schedule. The second pilot with Lauren Graham in Maura Tierney's spot is a little lighter, which I think is a good move on the part of the showrunners. Plus, I'm a sucker for Peter Krause (who threw a jab at Dirty Sexy Money during the panel) and I'm interested to see how the star-studded cast members play off each other.
As for The Deep End, I'm just excited to see a legal show that's all about the young'uns (well, and Billy Zane). ABC's new dramedy follows a group of fresh-out-of law school newbies as they take on their first big cases. Naturally, they're all good looking, and hookups ensue. It looks kinda like Grey's Anatomy for lawyers, so I'm not surprised it'll air before the hospital drama while FlashForward is on hiatus.
To see which shows I'm a bit unsure of, just
.
Life Unexpected is another new one I'm excited about, though I'm skeptical about its staying power since it may be a little too sweet for the CW. I was also pleasantly surprised by the panel for Sons of Tucson. It has a very Malcom in the Middle vibe, but the kids are so sweet, and Reaper's Tyler Labine is like a big ol' teddy bear — with an awesome sense of humor.
The pilot of Human Target is a fun little ride, but with so many other shows to watch, I think I'll be getting my action fix from 24 this year. The same goes for Miami Medical — could be fun, but not groundbreaking enough to earn spot on my DVR.