TCA Tidbits: Parks and Recreation Bring the Funny, Maybe More 24 on the Way
The Winter TCA is still going strong, but let's backtrack a bit to recap highlights from two beloved shows. One of the more lively panels of the weekend was with the cast and showrunners of Parks and Recreation. Now that they're midway through their second season, creator Greg Ellis, Amy Poehler, and the rest of the cast joked about how they finally found their niche and why we shouldn't expect any crossovers in the near future. Meanwhile, Kiefer Sutherland lightened up the 24 panel with jokes about going through airport security and revealed that he's game for more seasons of the show. Here are highlights: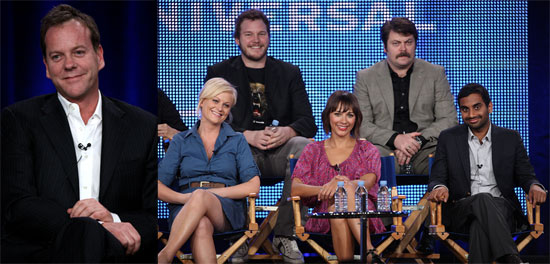 The creators of Parks and Rec admitted that the show needed some time to find its footing, but other major changes helped: notably, toning down Poehler's character (their new motto is "More Knope, Less Dope") and keeping Chris Pratt on as a series regular.
Amy shared a few thoughts on the show's success: "What's been nice is there has been a slow build of our show in many ways, and certainly the critical response, including some of the people probably in this room who we are very grateful for, have helped people take a second look at the show, and that's felt very — very satisfying and very genuine. And so we're kind of just hoping, of course, that that continues, that that word of mouth and the people that like our show like other things and they'll come and find it."
Fun episodes to look forward to: Tom will bond with Justin Theroux's character over a love of fashion (apparently Tom's love for polo shirts and the like was Aziz Ansari's idea). Also: we'll finally get a peek at Leslie Knope's home and, according to Poehler, "see how she lives."
But don't get your hopes too high for a crossover with another show. When asked about teaming up with 30 Rock, Poehler said, "Well, I want do something with Lost
but they're not on NBC. . . . It would be very difficult to do a crossover. That would be great, like, to try to shoehorn a crossover and, like, where we just go,'ding-dong.'"
To see what happened over on the 24 panel, just
.
Jack Bauer may be a grandpa these days, but that doesn't mean season eight is necessarily Sutherland's last. When asked about continuing the show, he said, "We've always approached each season, just the task of doing it, as so great that
literally from the very first season on, we've completed that season, and it was really Fox's decision to pick us up. There's never been one specific season that the next season was guaranteed or ensured. This has been one of the greatest gifts of my life, the ability to do 24. So for me, yeah. It's something that is absolutely open. I've always said that as long as people wanted us to make it, and people were really interested in watching it, I would be interested."
In the season premiere, we actually get a few smiles from Jack Bauer (you know, before all the explosions and terrorism set in). When asked about what it's like to play a happy Jack, Sutherland quipped, "The only time Jack Bauer smiled – and again, just because it happened so rarely we noted it, was when he finally in Season 3, when he had captured Nina and was flying back with her on the cargo plane and he had her in handcuffs, he looked at her and smiled. And that was about four episodes before he got to shoot her."
24 newbies Katee Sackhoff and Freddie Prinze Jr. got some attention. Prinze joked about how excited he is to finally get a break from the romantic comedies he's known for, saying, "I don't get offered this kind of a job, period. You know, for most of my career, if I'm in it, I'm struggling to fall in love for 96 minutes, and I always get the girl." Meanwhile, Sackhoff joked about how different the show is from Battlestar Galactica: "This is so different. It's on land. The other one was in space and so — you know, it's good."
Mary Lynn Rajskub on how she feels about Chloe surviving so many seasons: "I mean, there was a turning point where people thought I was weird and annoying, and then I started really helping Jack, and then that was really cool because then people started to like me a lot. So, you know, yeah, I do think that I could die, but I just hope that I don't."
Just for fun, Kiefer's response to whether or not he gets special treatment at airport security: "No, I — honestly, going through the airport security thing, I get in the same line as everybody else, go through the same search as everybody else. They probably talk to me a little more than the other passengers, but that's about it. You know, I think people make a joke more than anything. You know, I've always been shocked that people that actually I'm flying with say, 'Oh, I feel safer on the plane.' I'm thinking, 'You must not watch the show because everybody around me gets killed.'"
Stay tuned for lots more interviews, and highlights from the Winter TCA!