TCA Tidbits: United States of Tara, Nurse Jackie, and More!
The 2010 Winter TCA is in full swing in Pasadena, CA, and now that I've brought you some highlights from Peter Facinelli and an update on the NBC shakeup, let's talk about what else has been going down for CBS and Showtime.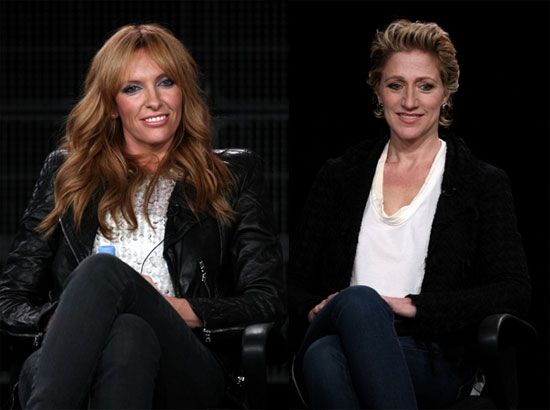 As far as programming is concerned, CBS has confirmed the cancellation of Three Rivers, and we got sneak peeks at two new shows: Miami Medical and Undercover Boss.Miami Medical looks a bit like a knockoff of Grey's Anatomy, except we're at a trauma hospital instead of a surgical wing, and most of the patients are in the midst of a sunny vacation gone awry.
At the Showtime panel, I got my first taste of Laura Linney in The Big C. I was happy to see that the promo had me intrigued, and there seem to be even more laughs than heartbreaking moments (though, given the subject matter, I'm sure that will change a bit). Bonus: even just a few seconds of Gabourey Sidibe outside of her Precious role was enough to make me giddy.
With The Tudors on the way out, the Showtime execs also announced a new period drama called The Borgias. Starring Jeremy Irons, the show will chronicle the infamous family during the Italian Renaissance. It will be added to Showtime's lineup Spring 2011.
For more about Nurse Jackie and United States of Tara, just
.
Peter Facinelli wasn't the only star of Nurse Jackie who got a few words in. Edie Falco admitted that she's never seen an episode of House and talked about how much she enjoys playing Jackie, saying, "The fun factor is very large for me. She has one goal in mind and that, for the most part, is to help people."
We also learned that the upcoming bromance between Kevin and Eddie is actually going to be a real friendship, and the writers revealed that they created the relationship to help "tighten the noose" around Jackie. We'll also finally get to see a bit of a dark side to Kevin, who was pretty squeaky clean in season one.
After Nurse Jackie, the star-studded conversation continued with Toni Collete, Diablo Cody, and the rest of the masterminds behind United States of Tara. The biggest news on season two is that we'll be meeting a new alter for Tara, and this one's named Shoshanna.
As for what else we can expect? Sounds like things are going to get steamier. Collette said, "I think the entire season is a little more raunchy. Everyone develops a love interest here and there." Cody also said that transitions between alters will be a bit more seamless and realistic now that the audience has a good grasp on who's who.
Just for fun: Cody also coined the show a "traum-com," as in traumatic comedy. Love it.