TCA Tidbits: The Vampire Diaries and Life Unexpected
The Winter TCA is chugging right along, bringing this morning's exciting news about Glee's renewed second season. Before that, though, I had the opportunity to learn a bit more about the CW's Spring programming with panels on The Vampire Diaries (get a sneak peek at upcoming episodes here) and Life Unexpected. Here's more: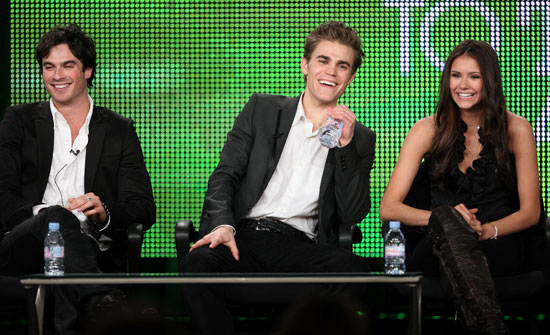 The cast and showrunners of The Vampire Diaries were all smiles on the panel and seemed to have a close-knit relationship. In fact, Ian Somerhalder and Paul Wesley repeatedly mentioned how close they are, even dressing alike and hanging out together after work — love that.
As far as plot goes: Vicki isn't coming back, though her death will continue to have an effect on Jeremy and Matt. Matt's mother will be making an appearance in the upcoming seasons, along with Mia Kirshner, who will play Alaric's dead wife in his flashbacks. We'll also learn about his agenda in Mystic Falls.
Alaric isn't the only one with plans. Creator Kevin Williamson revealed,"Damon has an agenda. He's going to save Katherine. He's going to do everything possible he can to get to her. And so, that tomb is still in play."
Nina spoke a little about the love triangle heating up, saying, "Well, it's not a love triangle with only two people. And now that the necklace is off, she's very vulnerable. And in this next episode that we're going to see, there are going to be a lot more of Damon and Elena." Williamson added, "One of the things that's going to be really interesting in this upcoming episode is Damon and Elena sort of have some alone time. They have a little bit of an adventure where they're sort of — you know, there's no Stefan. There's just the two of them." Hot!
After the panel, Paul said there's been nothing specific in the script about werewolves just yet, though he thinks the idea is "fantastic." Kevin Williamson also said that though Elena is turned into a vampire pretty early on in the books, we won't see Nina Dobrev playing any bloodsucker besides Katherine anytime soon.
To read about what to expect from Life Unexpected, just
.
In case you haven't heard about it yet, Life Unexpected is a cute little show that will be filling Gossip Girl's slot for the next few months — check out my thoughts on the pilot here.
As it turns out, the idea for the show came from creator Liz Tigelaar's own experience growing up with an adopted family. She also wanted to create a coming-of-age story for grownups, which is where Shiri Appleby and Kristoffer Polaha come in as a pair of 32-year-olds who've just reunited with their 16-year-old daughter for the first time — and immediately have to get into parenting mode.
Though I'm skeptical about how the sweet show will fare on the CW (Privileged, anyone?), I've got high hopes for this one. The cast (which also includes Dawson's Creek's Kerr Smith) is precious.