Take Me Home Tonight Review Starring Topher Grace and Anna Faris
Take Me Home Tonight: Not the Party of the Decade
Most movies try to show you something you've never seen before, but Take Me Home Tonight aims to do just the opposite. Set in 1988, the objective of the comedy is to capitalize on the trends of the decade, poke fun at the style, and pay homage to the films that defined a generation. Unfortunately, it gets so bogged down in piling on the clichés that it comes off as a forgettable knockoff of a John Hughes movie.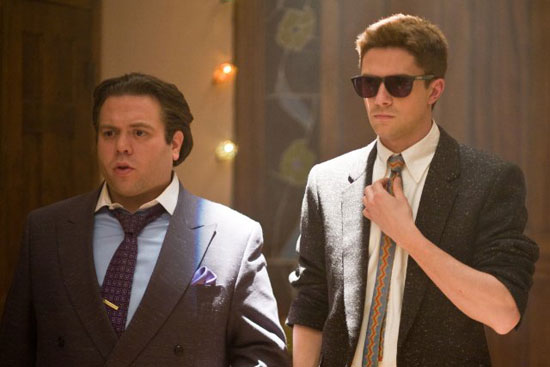 The movie takes place over one long night as Matt (Topher Grace) sets out for one purpose: to obtain the phone number of his high school crush, Tori (Teresa Palmer). A recent MIT grad, brainy Matt is unsure what to do with his life and ends up living in his parents' house and working at the local video store. There, he bumps into Tori for the first time in years and fabricates a fancy job at Goldman Sachs to impress her. When he learns that she'll be attending a rager that night, he enlists the help of his twin sister Wendy (Anna Faris) and best friend Barry (Dan Fogler) to keep his charade going.
To find out why the film misses the mark, just
.
Matt's pursuit of Tori plays out in a predictable but sweet way. Grace has the bumbling-but-endearing routine down cold, and it's easy to root for him as he gives Palmer longing looks and cracks cringe-worthy jokes in her presence. Palmer is equally likable; she's part girl-next-door, part bombshell, but Palmer succeeds at giving Tori a little more depth than just a nerd's high school fantasy girl.
Matt's got a few extra layers too; though all he can think about in the short-term is winning Tori over, the movie is ultimately about his inability to figure out the next stop of his life. Unfortunately, the theme holds the comedy back from being a light, entertaining, party flick. Wendy's story line mostly revolves around her struggle to decide if she should dump her boyfriend (Chris Pratt), a party boy with a popped collar who wants to turn her into a housewife. Though I liked seeing Faris playing it straight, her scenes with real-life husband Pratt aren't funny and drag down the film.
The '80s throwbacks are fun at first, as Matt and Barry head into the party to the tune of classic hits from the decade (including the "Safety Dance"), surrounded by girls with big hair and neon leggings. After that, it starts to go downhill: Barry's adventure with coke might have been representative of the time, but it only leads to absurdly unrealistic gags that try to push the envelope and instead fall flat.
It would have been wise to keep the film focused on Matt and Tori, but unfortunately the filmmakers try way too hard to make Take Me Home Tonight the perfect blend of coming-of-age film and raucous comedy. In the end, we're left with a half-baked love story that only delivers a handful of laughs.