Taylor Schilling Interview For The Lucky One
The Lucky One's Taylor Schilling Talks Love Scenes With Zac Efron: "Not a Bad Day to Come to Work"
Zac Efron's The Lucky One costar Taylor Schilling is the lucky one, indeed — the actress plays his love interest in the drama, and when I visited the set of the film, I got to chat with her and a few other reporters about her dreamy leading man. Schilling also joked about shooting their love scenes, and gave us some insight into her character Beth.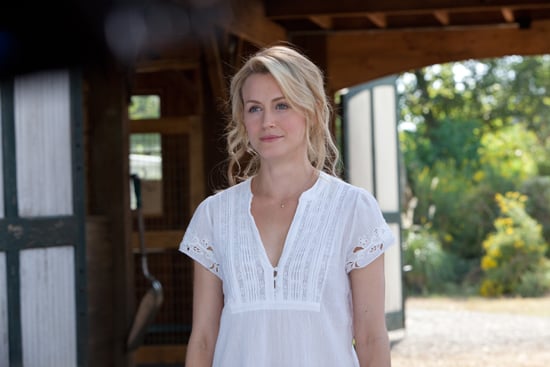 Is it tough shooting the love scenes with Zac?
Taylor Schilling: I mean, I don't know. I don't think so. I wonder what he'll say. . . [it's] not a bad day to come to work and do that. But you know, it's not as exciting as you would think it is either; it's a day that's very technical when you have to do that in front of a camera.
What were your expectations of Zac?
TS: The thing is, honestly, I didn't know much of anything about Zac before I got this because I'd never seen those High School Musical movies — which at this point, I can't wait to see them when we're done shooting because I'm excited to see what he did before. But I did not really have much of an expectation about him. I knew that he's incredibly famous, but in terms of his work as an actor, I didn't really know. So I really got to know Zac when I tested for this film with him and he was just such an incredibly charming, down-to-earth guy — for me, coming in and having never done a studio film before — he made me so comfortable at that test, and he was so generous and so wonderful, and was also so interested in the work. He was so engaged in the scenes and was so good. So good. So talented. It's just been wonderful to work with someone I really feel has my back as a scene partner. There's some really vulnerable stuff in this movie, and I feel like I could trust Zac with anything I got. He's a special guy, a good guy.
To find out what else Schilling talked about, just keep reading.
Can you explain the vulnerable aspect?
TS: Well, this woman is really going through an intense transition. She's just experienced a great deal of loss and she's trying to integrate that into her life. And she's also in the process of, whether she wants to or not, be hit in the face with this opportunity to love again. And those are two incredibly huge life events I think on their own. And then to have that happen all at once — it's a lot to reconcile. I think that comes out in so many different ways in the movie.
Do you believe in love at first sight?
TS: You know, I think I do. I think I do believe that sometimes you get a gut instinct on someone, a read. I don't know, I haven't experienced that in my lifetime. I totally think that there are those people that you, it's less intellectual, and you sort of know. Even if it's that whisper of a voice when you meet someone and you're like I'm going to know them more, and then you wind up together or something. I don't think that's a fantasy, I think that's real.
Were you familiar with Nicholas Sparks before the movie?
TS: I actually hadn't read any Nicholas Sparks books. I saw The Notebook, but clearly I didn't do my research. I've seen a bunch of the films, and I've read The Lucky One. I do appreciate that there's something really satisfying and comforting about his stories. They're so lush and you can kind of fall into them. I really love that.
What Sparks themes appeal to you the most?
TS: I think the idea of falling in love — I mean, that never gets old for me. I think that it's fascinating in one's personal life. And it's such an enduring and universal concept because, I mean, who knows how to really integrate someone else fully into their life? I'm always fascinated by that balance and who that person is, and even in my own life that balance. And it's always so inspiring, and yet you never stop thinking if that person is there, that somehow you can make it work — either if it's something that you're in right now or that you'll find that person out there. . . And that fantasy that someone will come along and unlock all of the doors that are locked inside of you, and that will kind of solve a lot of the issues, solve your problems. I like that fantasy. And I think that's another reason why the stories of Nicholas Sparks are so popular, because that's just so deeply ingrained, at least in my psyche, and [for] a lot of people. I just find that inspiring, you know, that that does happen — that you can open yourself up and be caught and be loved and cared for.
How has your experience been filming near New Orleans?
TS: Fantastic! It's an amazing city! It's a really amazing city. It has so much soul; you can feel that just walking down the street. There's so much history and so much . . . I don't think I've ever been anywhere like this before in the world.
Have you had much chance to explore?
TS: I haven't had as much chance to explore as I would have liked to. I've heard a lot of really good music on Frenchman Street and tried a lot of different really yummy foods. But there hasn't been as many lazy days to walk around New Orleans as I would have liked. But I definitely feel like I've gotten a taste of the city and I can't wait to come back, too. I want to come back as a tourist.