Ted Movie DVD Release Date
What to Rent: New DVDs This Week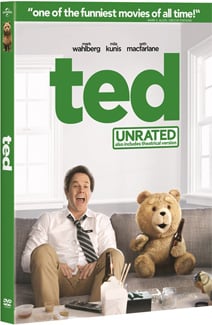 John (Mark Wahlberg) and Ted are as close as best friends can be. The two have grown up together, but while John has physically matured, his friendship with Ted, who happens to be a talking teddy bear, has kept his emotional and mental growth stunted. John's girlfriend, Lori (Mila Kunis), is left with no other option than to give him an ultimatum: it's her or the hard-partying bear. Seth MacFarlane's live-action debut is chock-full of raunchy laughs and '80s pop-culture references, and though the plot meanders a bit, it's funny throughout. The DVD includes a gag reel, a making-of featurette, and commentary.

69%
Jeremy Renner jumps into the Bourne franchise as Aaron Cross, an agent working for the same agency Jason Bourne was once a part of. When his government program is shut down, Cross must dodge deadly assassins now targeting him while trying to find pills that have been improving his mental and physical abilities. On the way, he picks up a pretty scientist (Rachel Weisz), who is the only one who can help him find the meds. It's not as good as the other Bourne movies, but there are a few cool action sequences. The DVD comes with deleted scenes and three featurettes.
56%
Get one more new release after the jump.
Manny (Ray Romano), Ellie (Queen Latifah), Diego (Denis Leary), Sid (John Leguizamo), and the whole gang are back for the fourth Ice Age movie. This one sticks to formula as a fight between Manny and his daughter, Peaches (Keke Palmer), escalates into an adventure involving prehistoric pirates and somewhat frivolous dance numbers. The movie may be silly, but it's a good pick for kids, and parents will get a kick out of the new voices, including Jennifer Lopez and Drake. Included on the DVD are a couple music videos, a sing-along, and a couple featurettes.
37%