Ted Movie Review
Ted: A Talking Bear With Plenty of Bite
Family Guy creator Seth MacFarlane brings his signature raunchy humor and no-holds-barred celebrity jabs to the big screen in Ted. The movie stars Mark Wahlberg as John Bennett, a man whose childhood wish magically brings his teddy bear (voiced by MacFarlane) to life. While the bear's ability to walk and talk initially brings him fame and TV appearances, decades later, Ted has turned from a lovable national treasure to a pot-smoking couch-dweller. Ted and John have remained best friends, but the bear's presence in John's life has stunted the 35-year-old's maturity level, suppressing his urges to pursue a career or take his relationship with his girlfriend Lori (Mila Kunis) to the next level.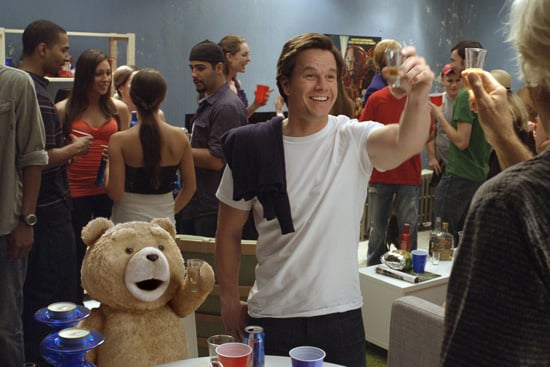 Free of the censorship constraints of network television, MacFarlane can go even further with the often-offensive wisecracks and cartoonish hijinks his fans already love. Much of the humor in the movie owes itself to the adorably well-animated bear, whose crude barbs and spot-on Hootie & the Blowfish impression are priceless. Though the movie plays out like an overlong episode of one of MacFarlane's cartoons, Ted provides enough laughs to overlook its meandering plot. To find out what else I thought about Ted, just keep reading.
It's been awhile since I've seen Wahlberg in a role that doesn't involve pummeling someone, and it's refreshing to see him play a goofy, genuinely nice character. Kunis also brings a charming wittiness to Lori, John's long-suffering girlfriend whose patience runs out after John ditches her one too many times to watch Flash Gordon with his fluffy buddy.
John is at the center of two conflicting relationships, one with his girlfriend of four years and one with his teddy bear/best friend since childhood. But just as the flick establishes itself as a romantic comedy, it takes a turn and incorporates, but never completely commits to, a creepy kidnap plotline — courtesy of Giovanni Ribisi, who is altogether too convincing as a disturbed fan obsessed with Ted. The two story lines eventually come together, but it takes forever to get to the climax, which makes the second half of the movie drag.
If you like Family Guy, you'll probably love Ted. Despite the flawed plot, a foul-mouthed tubby teddy and steady collection of jokes provides enough belly laughs to warrant a trip to the theater — even if laughing at them makes you feel like a person of questionable morals.