Terra Nova Pilot Preview
Pilot Scoop: Terra Nova
With Summer quickly drawing to a close, we're continuing to prep you for the upcoming Fall TV season by giving you the lowdown on the new shows. Today I'm taking a look at Fox's new drama Terra Nova, which follows a family as they travel through time to be part of an experiment to save the human race.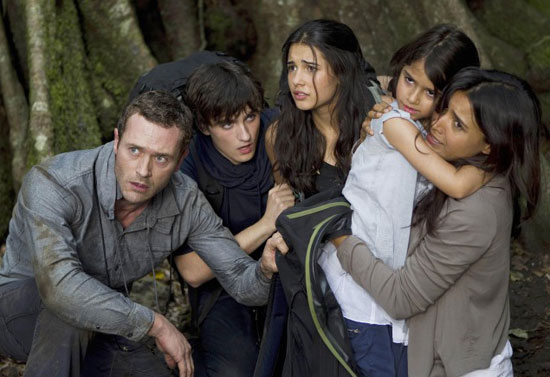 What it's about: The year is 2149, and the world in on the brink of extinction due to nearly unlivable environmental conditions. The Shannon family is chosen to travel back in time to a prehistoric settlement called Terra Nova to take part in an experiment that is mankind's only hope for survival. On the surface, Terra Nova seems idyllic, with modern homes, a verdant landscape, and friendly brontosauruses that will eat from your hand. However, during their first full day at the settlement, Jim (Jason O'Mara) and Elisabeth Shannon (

Shelley

Conn) begin to discover that things aren't as peaceful as they seem.
Where it works: The pilot does a great job of piquing interest in the mystery behind the Terra Nova settlement. We learn that Commander Nathaniel Taylor (Stephen Lang) is keeping secrets from the settlers, and are left to wonder why someone attempts to assassinate him. The show is also visually stunning with gorgeous natural scenery full of cascading waterfalls and never-ending greenery, as well as impressive special effects used to bring the show's roaming dinosaurs to life.
Where it doesn't: At its heart, the show is still about the Shannon family, but the pilot drives that point home a little too hard. While there are some sweet moments between Jim and his children, when the Shannons talk about how they just want to be a normal family, it's a bit much. Commander Taylor also smacks of Lang's bad-guy Avatar character, which makes me worry that he'll be an over-the-top villain.
You might like this show if: You're interested in a cross between Jurassic Park and Lost.
When it's on: Mondays at 8 p.m. on Fox.
Watch a preview when you
.
Photo courtesy of Fox