Thor Movie Review 2011-05-06 03:05:00
Thor: Enter the Realm of Excitement
It may not be Summer quite yet, but the arrival of Thor hammers it in: blockbuster season has arrived. Chris Hemsworth plays the title character, the good-looking, gloriously built God of thunder who's in line for the throne in the mythical realm of Asgard. On the night that he's supposed to be inducted as king by his father Odin (Anthony Hopkins), an invasion from the enemy Frost Giants derails the festivities. Thor secretly organizes a retaliation, and when Odin has to rescue his sons and friends from the unsuccessful mission, he angrily punishes Thor by banishing him from his home.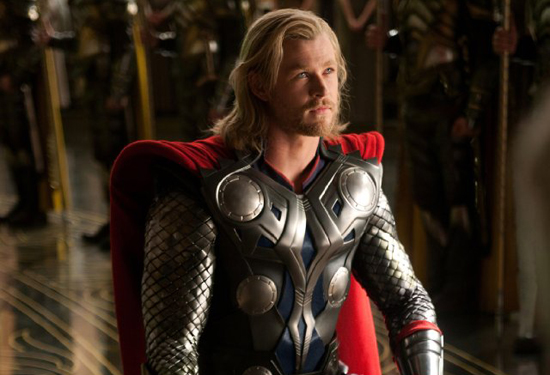 Exiled to Earth, the disoriented God is hit by the van of scientists led by Jane Foster (Natalie Portman). Jane and her colleagues (Stellan Skarsgard and Kat Dennings) bring Thor to the nearest town, where he has to assimilate with the mortals. Needless to say, his huge ego and fish-out-of-water behavior draws attention to him and produces lots of laughs. It's Thor's ability to succeed on different levels — action and comedy, specifically — in a sleek, energetic package that makes it a supremely entertaining movie. To find out why I enjoyed it so much, just
.
Though Thor boasts some major thespian credibility like Hopkins and Portman, it's the newcomers who really impress here. Hemsworth is a major find as Thor; his character could be a beefcake warrior of few words, but Hemsworth brings a robust personality to the part. He's convincing in each of Thor's phases: as the arrogant prince, the despondent stranger in a strange land, and the impish charmer. Likewise, Tom Hiddleston is fantastic as Loki, Thor's jealous and conflicted younger brother. He's more than just a one-dimensional villain; Hiddleston makes Loki's turn to the dark side understandable.
Thor pulls off a victory I wasn't expecting: the dramatic, action-filled scenes in the fantasy realm are just as entertaining as his misadventures on Earth. The battle scenes are exciting, and thankfully brief, an unusual feat for this genre. And at a time when 3D is being overused on the big screen, this is a movie that's enhanced by it. The visuals are awe-inspiring, especially in the stylized world of Asgard.
The only thing that doesn't reach its full potential in Thor is the romance between Thor and Jane. There's an adequate amount of chemistry between Hemsworth and Portman, but the love story is rushed, and the intensity of their connection is unconvincing. But other than that, Portman adds to the movie's overall comedic success, as does Dennings as her dry, sassy sidekick.
It's the rare movie that can please a wide audience, but Thor is one of those films. No scene drags on too long, the dialogue and plot are engaging, and it all adds up to the high amount of fun that a Summer action movie should be.